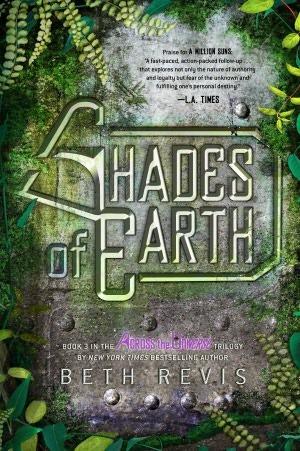 Genre: YA Sci-Fi
Published: January 15, 2013 by Razorbill
Series: #3 (Across the Universe)
Length: 369 Pages
Source: bought (at Barnes & Noble)
"Amy and Elder have finally left the oppressive walls of the spaceship Godspeed behind. They're ready to start life afresh–to build a home–on Centauri-Earth, the planet that Amy has traveled 25 trillion miles across the universe to experience.
But this new Earth isn't the paradise Amy had been hoping for. There are giant pterodactyl-like birds, purple flowers with mind-numbing toxins, and mysterious, unexplained ruins that hold more secrets than their stone walls first let on. The biggest secret of all? Godspeed's former passengers aren't alone on this planet. And if they're going to stay, they'll have to fight.
Amy and Elder must race to discover who–or what–else is out there if they are to have any hope of saving their struggling colony and building a future together. They will have to look inward to the very core of what makes them human on this, their most harrowing journey yet. Because if the colony collapses? Then everything they have sacrificed–friends, family, life on Earth–will have been for nothing.
FUELED BY LIES.
RULED BY CHAOS.
ALMOST HOME."

*This review will contain some spoilers from the first & second book since it is the third book of the trilogy.*
Elder and Amy are finally going to Centauri Earth along with the other people from Godspeed and the frozens. What made this book such a page turner is the twists that the author threw in. I was really curious about the new planet and that got me hooked on to keep on reading as well. I love how Revis wasn't afraid to kill off some of her characters.
What I didn't like though, is the romance. There was a love triangle going on with Elder, Amy, and one of the frozens – Chris. It just didn't work out. One day Elder and Amy would be making out and LITERALLY the NEXT day Amy would be having a make out session with Chris. I used to like Amy's character, but because of that she's not one of my favorite protagonists anymore. For Elder, I freakin loved him in this book. I love how he cares so much about his people and he shows great leadership.
I really really really recommend this trilogy. There's a bunch of mystery, twists, and if you want to read a book that doesn't focus on the romance, then this one is for you. Out of all the three books, A Million Stars would have to be my favorite but Shades of Earth is still awesome.