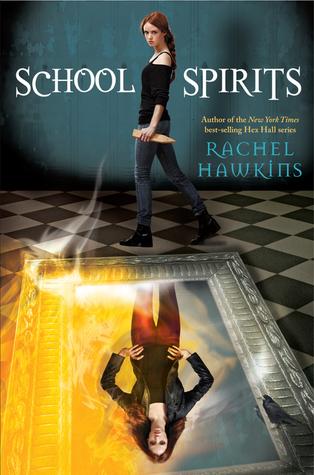 Title: School Spirits
Author: Rachel HawkinsEdition: hardcoverSeries: School Spirits #1Released Date: May 14th, 2013Publisher: Disney Hyperion

Goodreads

/

Amazon 

Kate has always been the good girl. Too good, according to some people at school—although they have no idea the guilty secret she carries. But this summer, everything is different…




This summer she's a counselor at Cumberland Creek summer camp, and she wants to put the past behind her. This summer Matt is back as a counselor too. He's the first guy she ever kissed, and he's gone from a geeky songwriter who loved The Hardy Boys to a buff lifeguard who loves to flirt--with her.




Kate used to think the world was black and , right and wrong. Turns out, life isn't that easy…


Izzy Brannick is one of the last Brannick's alive, along with her mother. Their job is to help unt bad Prodigium, like vampires and ghosts. Every since Izzy's sister, Finley, disappeared, Izzy has had to start taking some of her own cases. Her first big case?: high school. She has to attend high school and capture the ghost that's haunting the school. She ends up making some friends and falling for a guy she's not supposed to. 
This novel has the same feel as the Hex Hall series, which is understandable because it's kind of a spin off. Izzy was in the last two books of the Hex Hall books. What I really enjoy about all of these novels is the lightness of the characters. Each and every one is comical and has something fun to add to the books. 
Finley always used to be in the spotlight, but since she disappeared, Izzy has taken her own missions. Izzy is used to always follow her sisters steps, but she becomes a little lost without her. She breaks out of her shell pretty early in the novel and knows she has to prove to her mother that she's able. Izzy and Sophie from Hex Hall are cousins, and you can easily tell. They've both got the same humorous attitude that you find in Rachel Hawkins books. She's a little different than Sophie, mostly because she doesn't know what it's like to have to go to school. Going to school is scarier than capturing the ghost, in her mind. She's trying her best to be more like a girl, and she starts to do a good job at it. She actually focuses on school, makes some friends, and falls for a boy.
Dex is that boy she falls for. He's a part of the ghost-hunting group that Izzy joins. Izzy senses some Prodigium when she touches him, but she can't tell what kind he is. His parents are also dead and he only lives with his Nana. This makes him a very suspicious character, and I was always looking for clues to tell what he was and what his motives were. Thankfully, he proves to be a pretty good guy! He's sweet, sarcastic, and sometimes cocky; overall he's perfect for Izzy. And I have to say, the kissing scene between them was SWOON-WORTHY.
Izzy's best friend at the school is Romy Hayden, who's in charge of the ghost-hunting group. Oh, by the way, the group is called PMS (Paranormal Maintenance Serve). Anyways, Izzy and Romy instantly form a friendship and bond over TV shows like Ivy Springs which Izzy started to watch to become more like a normal girl. I honestly loved seeing these two characters together, because they reminded me a bit of my best friend and I! I'm honestly really disappointed if the Brannicks move in the next book, because I'll miss Romy! 
There were other characters in this book, like Anderson, Adam, and Torin. Anderson is the last member of the ghost-hunting group and him and Romy have a cute little romance. This made it easier for Izzy to break open, because she hear about their romantic scenes and made Izzy more comfortable to share hers with Romy. Adam was just kind of random. I feel he didn't really have a purpose in the novel. He was a guy that liked her in the beginning of the book and asked her to go to a basketball game. That was it. I feel like this book could have done without him. Lastly, Torin - the 400-some year old warlock that lives in the Brannick's mirrors. He got like creepily romantic with Izzy, and I don't know if I really like it. I hope something doesn't happen between them! Oh, and he's kind of a jerk. 
The characters were all great and lovely, but I really enjoyed the plot. I loved that Izzy had a group of friends to help capture the ghost instead of having to do it all by herself. Also, the ending was crazy! WOW! I didn't expect any of that to happen! First with Romy, and then with who was actually summoning the ghosts?! I can't wait to see what happens in the next novels! 
If you're looking for a paranormal book that's light and quick, then definitely read School Spirits. If you haven't read Hex Hall yet, I would suggest doing so. There are some references to things that happen, and in this book they don't thoroughly describe what Prodigium are either. Anyways, I can't wait to see what happens in the later books! Great novel, Rachel Hawkins!