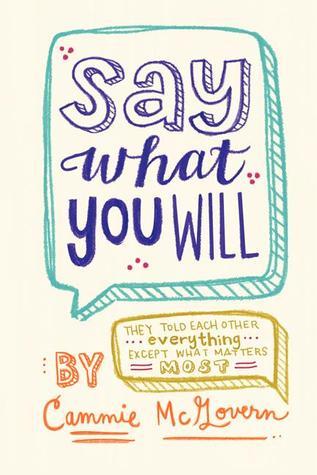 Genre: YA Contemporary
Published: June 3, 2014 by HarperTeen
Length: 352 pages
Source: HarperTeen (ARC)
"Born with cerebral palsy, Amy can't walk without a walker, talk without a voice box, or even fully control her facial expressions. Plagued by obsessive-compulsive disorder, Matthew is consumed with repeated thoughts, neurotic rituals, and crippling fear. Both in desperate need of someone to help them reach out to the world, Amy and Matthew are more alike than either ever realized.
When Amy decides to hire student aides to help her in her senior year at Coral Hills High School, these two teens are thrust into each other's lives. As they begin to spend time with each other, what started as a blossoming friendship eventually grows into something neither expected."

Dang! This book is so good! This is the type of book where you'll keep flipping the page until you realize it's past midnight. Although told in 3rd person point of view (which is not my preference) it was so easy to relate to these characters. There are a lot of dialogues and e-mail conversations in this book which makes you forget that it's actually being told in 3rd person. It is also a dual point of view between our two main characters, Amy and Matthew. Amy was born with cerebral palsy and as a result, she has to walk with a walker and use a voice box in order to speak while Matthew has an obsessive-compulsive disorder (OCD).
What I loved most about this book is that it's very realistic and unpredictable. There are a lot of life lessons in this book such as life will lead us into what we least expected. I also like how Amy's parents are involved. I understand how her mother wants to do what she thinks is for the best for Amy, but she also needs to learn how to let go. Amy is independent, smart, and brave and I admire her for that. It amazes me how she does not give up even though she has a lot of weight on her shoulders. What I also liked about Say What You Will is the friendship. This book explains that we should not have to "try hard" in order to be accepted or to have friends. The only thing I was iffy about is Amy and Matthew's relationship.
Overall it was a fantastic read, and this is a book that is great to give to a friend, relative, stranger, whatever as a gift because there are a lot of life lessons (like I said!). I think everyone should read this book and not just young adults because it's very eye opening and revolves around a diverse topic. This is definitely a must read if you're looking for character development, friendship, family, and a diverse book.