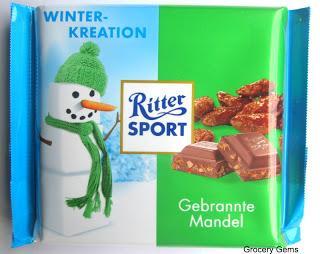 There are three releases in the Ritter Sport Winter 2013 collection; Caramel Orange, Coconut Macaroon and Caramelised Almonds (see reviews from Kev's Snack Review and Choc Mission). The Coconut Macaroon and Caramelised Almonds are both returning flavours from last year, although this is the first time I've tried the latter (see my review of the Coconut Macaroon from last year here).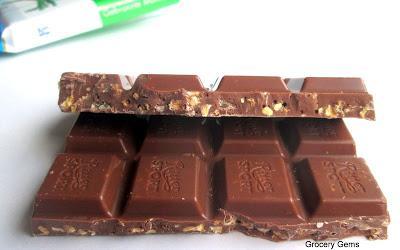 The Gebrannte Mandel, or Caramelised Almonds, bar is based on the kind of sugar roasted almonds which are popular at Christmas markets around Europe. Each bar has lots of crushed pieces of these caramelised almonds embedded throughout. Texturally I found the pieces a bit too small, I would have preferred some larger chunks in there. However, the flavor is completely delicious, as always from Ritter Sport. The milk chocolate has a rich cocoa flavour, whilst the almonds add plenty of crunch and a sugary, slightly burnt caramel edge. The flavor in the almonds also reminded me somewhat of the sugared almonds that are available at Easter. The whole thing is quite sweet but it was enjoyed by all my fellow testers here who tried it with me. 
Grocery Gems Verdict: Ritter Sport Gebrannte Mandel
RATING: 7.5 out of 10
Buy them again?: Yes.


Purchased

:

 German deli, Borough Market, London - also online at Monster Sweets
Price: £1.75.