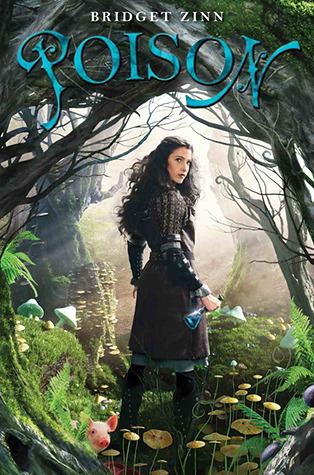 Title: Poison
Author: Bridget Zinn
Edition: hardcover
Series: none
Released Date: March 12th, 2013
Publisher: Disney Hyperion
Goodreads
/
Amazon 
Sixteen-year-old Kyra, a highly-skilled potions master, is the only one who knows her kingdom is on the verge of destruction—which means she's the only one who can save it. Faced with no other choice, Kyra decides to do what she does best: poison the kingdom's future ruler, who also happens to be her former best friend.
But, for the first time ever, her poisoned dart . . . misses.
Now a fugitive instead of a hero, Kyra is caught in a game of hide-and-seek with the king's army and her potioner ex-boyfriend, Hal. At least she's not alone. She's armed with her vital potions, a too-cute pig, and Fred, the charming adventurer she can't stop thinking about. Kyra is determined to get herself a second chance (at murder), but will she be able to find and defeat the princess before Hal and the army find her?
Kyra is not your typical murderer, and she's certainly no damsel-in-distress—she's the lovable and quick-witted hero of this romantic novel that has all the right ingredients to make teen girls swoon.
Originally, this novel was supposed to be for the book club that Bailey and I host every month. Sadly, we both went on a hiatus soon after starting this book and could no longer run the book club. We actually gave up on the book for the month, but I decided to finish reading Poison anyways. (If you're interested in the book club, click here.)
I'm glad I did! This book had a light, fun, and humorous adventure with likable characters as well. It's just that kind of book that any reader ranging from a middle school student to an older person would enjoy reading because it was so whimsical. I know I definitely enjoyed reading it because of that! 
So Kyra is a assassin using these chemical darts. Apparently, she never misses. The one time she did miss was when she was trying to kill her best friend, the princess. You may be totally confused, but trust me, there's a reason for it. Anyways, she's on the run because her ex-best friends are trying to find her and kill her as well. She looks for protection and receives a pretty adorable pig who she names Rosie. Rosie was fricken awesome, even though she didn't really do much. She was just kind of there for most of the part and made a lot of scenes hilarious. I mean, wouldn't you think it was funny if you saw a girl with a pig as her companion? 
Along with Rosie, Kyra is being followed by Fred, who she doesn't really know. They kind of adventure off together, but each step brings them closer together. They are very similar in their personalities, except for the fact that Fred actually cares for more people than Kyra does. I was very suspicious about Fred throughout the book, but that didn't stop me from becoming attached to him! I do like how he ends up in the end of the book. 
Speaking of the end, I was just going crazy. There were so many twists and turns - wowza! I have to say that some stuff was expected though. Other things completely surprised me, so it was good to have that mixture. All of the things that happened occurred for a reason too. It kind of wrapped up the book and filled in any open spaces that were left unfilled earlier. I'm glad this book was a stand alone though. All the questions were answered and it was a pretty closed ending. This could be due to that fact that the author passed away in August, or simply because that was the intention of the novel. Either way, the ending was pretty good! 
If you're just looking for a book that you can quickly read, get a little bit of romance, adventure, and humor, then you should definitely pick up Poison. It had a wonderful balance of everything you could ask for in a young adult novel.