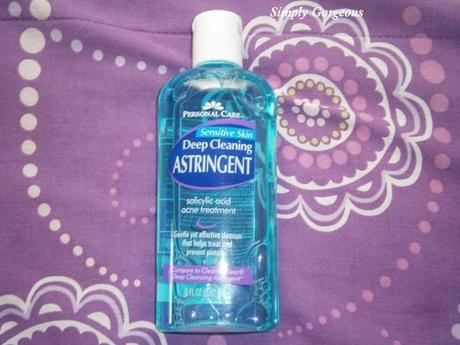 Hi Gorgeous! I'm back with another product that I purchased about a week ago or so from my local Dollar Tree–I love this store :)
I picked up a Personal Care Sensitive Skin Deep Cleaning Astringent which is comparable to Clean & Clear Deep Cleansing Astringent. Obviously this was only a $1.00 and it contains Salicylic Acid for acne treatment which is why I bought this product. I have been looking for a good astringent to help with my acne and I finally found one that I really like.
I use this product twice a day–in the morning and at night. I remove my makeup and wash my face then I pour a little product on a cotton ball and I apply it all over my face. I really like that is leaves my face feeling nice and fresh and it smells good. In the short amount of time that I have been using this astringent I have seen positive results in regards to my acne which makes me very happy.
Here's a little info about Personal Care's Deep Cleaning Astringent:
Uses: For the treatment of acne
When using this product:
Avoid contact with eyes, if contact occurs immediately flush with water
Using other topical acne medications at the same time or immediately following use of this product may increase dryness or irritation of the skin, if this occurs, only one medication should be used, unless directed by a doctor
Directions:
Cleanse the skin thoroughly before applying medication
Moisten a cotton ball or pad
Cover the entire affected area with a thin layer 1 to 3 times daily
Because excessive drying of the skin may occur, start with 1 application daily, then gradually increase to 2 or 3 times daily if needed or as directed by a doctor. If bothersome drying or peeling occurs, reduce application to once a day or every other day.
I will be adding this astringent to my skin care routine and I recommend this product to anyone who has sensitive skin and suffers from mild to severe acne.
This products gets a A+ from me :)
Gorgeous, have you tried this product before? What astringent are you currently using?
Stay Gorgeous!