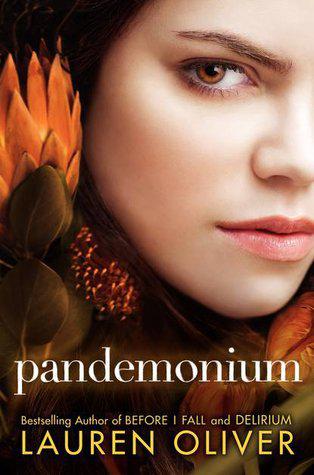 Title: Pandemonium
Author: Lauren Oliver
Edition: hardcoverSeries: Delirium #2Released Date: February 28th, 2012Publisher: HarperTeen
Goodreads

/

Amazon 
I'm pushing aside the memory of my nightmare,
pushing aside thoughts of Alex,
pushing aside thoughts of Hana and my old school,
push,
push,
push,
like Raven taught me to do.
The old life is dead.
But the old Lena is dead too.
I buried her.
I left her beyond a fence,
behind a wall of smoke and flame. 
Lauren Oliver delivers an electrifying follow-up to her acclaimed New York Times bestseller, Delirium. This riveting, brilliant novel crackles with the fire of fierce defiance, forbidden romance, and the sparks of a revolution about to ignite.
 Lena Haloway has lost everything - her family, her friends and even Alex, the boy she loved. Now she chooses to adventure out to The Wilds by herself in hopes for survival. She meets Raven, Blue, Tack, and other Wild members: some which are nice, others are not. She has to learn how to take care of herself and others in the Then. In the Now, things are different. As an undercover spy, Lena's purpose is to learn more about the DFA, and her job is to follow Julian Fineman. When she finds herself locked up in a cell with Julian, she wonders if it's possible to love more than one person.  It took me a while to get used to the chapter set-up. One chapter would be from Then - the time Lena spent in the Wilds - and the next would be from Now - being undercover in the city as a DFA member with Julian. At first I didn't like it, because I felt like it was jumping all over the place, but then I understood the meaning of it. You got to see the contrast of Lena's character as she grew. Consecutive chapters would have similar situations in them, and I was able to see how she progressed and became a stronger person. Also, it was a good way to motivate me to read the book faster. One chapter would end with a cliffhanger, and you'd expect to start the next chapter and figure out what happened, but instead you had to read a whole another chapter before you could see the solution!  If you liked Lena in Delirium, you're going to love her in Pandemonium. In Delirium, Lena held an aura that screamed innocence, but her underlying ambition was always there. That ambition comes out on the surface in Pandemonium, and it helps her become a strong character. I must say, that she becomes quite the bad-ass in the last part of Pandemonium!
Going into this, I was so upset that there wouldn't be any romance, seeing as Alex was dead. I had always been for Alex and Lena and never even imagined Lena being with anyone else since Alex was gone. My thoughts instantly changed the moment Julian came into the picture. This dude is awesome. He's the son of the leader of the DFA, and he's as old as Lena, but he's not cured yet. I love the adventure with Lena and Julian - from trying to escape, to trying to figure out their feelings for each other. I must say, that at the end of this, I was all for Lena & Julian. Until, of course, the ending. If you've read this, you know what I'm talking about... Lauren Oliver brought upon a novel of greatness - that's for sure. Pandemonium was a great addition to Delirium, and it brought out some feelings I didn't exactly feel in Delirium. This was definitely one of the best sequels I've read in a while! I'm hoping Requiem will be just as good as these and a great addition to the series!