In this age of just in time (JIT) organizations seek automation to simplify difficult or time consuming tasks
In any business, customer or member calls are received daily for customer support, sales or billing purposes. With these interactions, there remains a threat of misbehaving customers or call center agents who can put the reputation of the organization at risk (i.e. lawsuits, disputes, compliance infractions). Therefore, automatic call recording software that automatically records and stores these interactions, provides an accessible record that can be recalled and replayed to prove what was said on a call. These recordings provide insurance against liability and can also offer insight into customer service levels.

OrecX Call Recording software (Oreka TR) meets all of these needs, and it is far less expensive than its competitors. OrecX is ideal for any size organization to record every call (or a sampling of calls) to maintain compliance, verify orders, resolve disputes, monitor agent performance, etc. What's more, due to its open-source core, it can also easily integrate with any 3rd party applications or switch.
So let's talk about some of its best features.
Distributed Call Recording
The software can record or handle many calls at the same time to reduce the internal traffic of the organization and to reduce storage-related problems. In simple words, the software can record calls in any large enterprise business over multiple locations on different networks, without interrupting internal network bandwidth and storage limitations.
Event-Triggered Recording
OrecX can record the calls with the proper definition of the events or the activities done throughout the call.
Recording Bookmarking
During the call, the employee can easily mark a flag at any specific time of the call. This flag will indicate an important phrase or word that was spoken by the agent or the customer. The user can easily access the recording from that bookmark or the flag to listen to that specific portion of the call.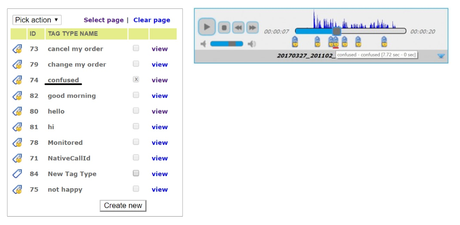 Screen Activity Recording
Organizations can simultaneously capture the activity on the agent's computer screen during the call. The organization can analyze the activities of its employees during the calls to ensure they are productive and not playing games or scrolling through social media, for example.
Easy to Set Up
OrecX is very easy to set up in any size organization. It can be installed in just about 30 minutes, regardless of which type of PBX (Private Branch Exchange) the company is using, because it is compatible with almost every PBX.
Open Source
As it is free, open-source software. Due to open source core, it can easily interact with any type of 3rd party application and any type of switches. With the open API, you can make some custom changes to the call recording software to properly meet your needs.
No extra hardware required
OrecX can run on an existing server or a commercial off the shelf server. This means you don't need any extra hardware to run OrecX in your environment.
Very minimal maintenance required
Almost any technology requires some level of troubleshooting. OrecX has a very simple interface and requires virtually no maintenance. It simply works and typically causes no issues.
Recordings are done in portable MPEG format
In the OrecX call recording software, your recordings are stored in the portable MPEG (Moving Picture Experts Group) format so the user doesn't need any extra player to listen to the recordings. The user can easily E-mail the recordings file to anyone without any problems.
Lastly, OrecX is affordable enough for even small businesses to afford to employ it. This software provides you the full functionality with a fraction of the price. It can record all VoIP (Voice over Internet Protocol), landline or even mobile inbound/outbound calls automatically. It stores all the recorded calls and events directly on the server and allows you to look up recordings by date, external phone numbers, extension, and other parameters.
Deployed worldwide in over 190 countries, OrecX is the best call recording software for any organization looking to capture, store and replay calls for any business purpose.
That's all from the story. If any query persists, do notify us in the comment section. Stay connected to read more.