The latest version 15.04.01 of Kernel for Exchange Server Recovery authentically recovers the Exchange database (EDB) corruptions and process all EDB files for Outlook PST conversion. It effectively deals with corrupt .STM files that were previously been used in Exchange Server 2000 or 2003 editions. Moreover, Kernel for Exchange Server Recovery converts the EDB file into Outlook PST that are equally compatible to MS Outlook 97, 98, 2000, 2002, 2003, 2007, 2010, and 2013 versions.
Technical Information
Software Name Kernel for Exchange Server Recovery
Software Developers Lepide Software
Software Version 15.04.01
Software Size 16.0 MB
Software Core Functionality Recovers corrupted or deleted EDB/STM files
Operating System Compatibility Compatible to Windows 8.1, 8, 7, Vista, XP, 2008, 2003, 2002, 2000, Windows Server 2012, and Windows Server 2008 R2
Supported PST Unicode as well Non-Unicode PST
Free Version Available
Minimum System Requirement Pentium class processor, 512 MB RAM, and 50 MB storage space for installation
Software Website http://www.nucleustechnologies.com/Exchange-Server-Data-Recovery.html
Prominent Features of Kernel for Exchange Server Recovery:
Executes Accurate EDB to PST Conversion
The software accurately retrieves email items, like contacts, calendars, journals, or emails, etc., from corrupt Public and Private EDB mailboxes, and then proficiently converts recovered email items into the accessible PST file.
Intelligent Export Facility
This Exchange Server recovery software has unique export facility, using which you can migrate the recovered EDB mailboxes to the live Exchange Server or Office 365 mailboxes. In addition, the software has the provision of migrating multiple EDB mailboxes to live Exchange Server in the single cycle.
Integrated with Powerful Scan Modes
The software is programmed with two intelligent scan modes, i.e. Standard Scan and Advanced Scan. Both the scan modes are proficient in dealing with varied range of EDB file corruption. The Standard Scan mode adeptly recover email items from corrupt EDB files, whereas the Advanced Scan mode repairs severely corrupted Exchange databases.
Provides Email Filter Options
The software is equipped with the dynamic email filter option, which includes several fields such as date range, item type, etc. You can apply these filter rules on recovered EDB mail items to filter the outcome results that you want to be saved in Outlook PST file format.
Inclusion of Intelligent PST Options
You can utilize the outstanding facility of this Exchange Server recovery software to split large-sized PST file into fragmented PST files according to the specified file size, either in MB or GB. In addition, you can also create Unicode PST file while saving the recovered EDB mailboxes.
Save Files into Various Types of Format
This unique software provides multiple saving options to save recovered EDB files. Apart from saving the repaired EDB files into PST file format, you can also save EDB mail items in EML, RTF, MSG (Unicode & ANSI), HTML, and Text file formats.
Rich Preview Functionality
The software is enhanced with rich graphical interface along with the provision of preview option. Using this preview functionality, you can view, select, and then save the required EDB mailbox items to the Outlook PST, live Exchange Server, or Office 365. In addition, preview window allows you to view the content of emails and other items as well.
Equipped with EDB Search Facility
You can use the Search functionality added in the software interface to browse and locate the corrupt EDB files. The Search functionality executes the intensive scan operation on specified disk drive and search out the corrupt EDB files that are meant to be repaired. This amazing functionality saves your crucial time in searching out the required EDB files.
Compatible to Every Exchange Server Version
The software is uniquely developed to resolve all kinds of Exchange Server errors. To make the software processing more effective in dealing with Exchange database corruptions, it is made compatible to all editions of Exchange Server. In fact, the software can repair EDB files of MS Exchange Server 2013, 2010, 2007, 2003, 2000, 5.5, and 5.0 editions.
Testing the Software Competency
Name of EDB File Priv1.edb
EDB File Size 767 MB
Condition of EDB File Inaccessible because of "JET_errDatabaseCorruptedNoRepair -1224" error
EDB File Type Private Mailbox
Key Functional Task to Recover Subject (i.e. Priv1.edb file)
 Click the Browse button to upload corrupt EDB file, and then click the Next button.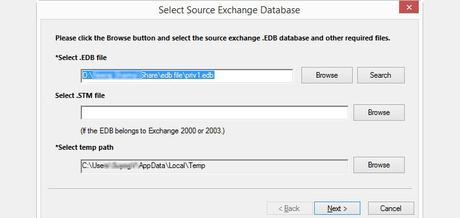  Select the desired mode of scan according to the severity of EDB file corruption. By default, the Standard Scan option is checked. Click the Finish button to trigger the intensive scan operation.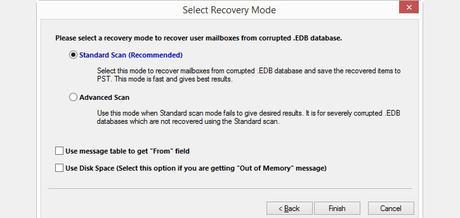  After the scan operation, you can preview the EDB mailbox items, which is shown in the following screenshot. Select the EDB files from left pane and have preview of email items in the right pane.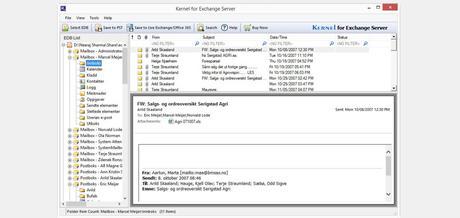  Right-click on the email items from the left panel, and save the individual email item to PST, live Exchange Server, or Office 365 mailboxes. However, when you select the Save to PST option, and the Select Destination, PST Options and Filters window get displayed.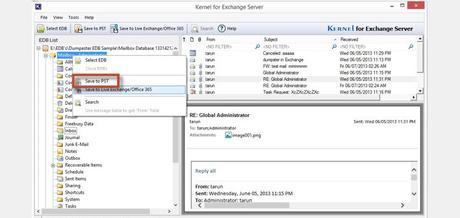  Select the destination folder to save EDB items in PST file format on computer's hard drive. You can also split the large-sized PST files according to the desired sizes in MB or GB. The software also embeds some email filter options, using which you can filter email items based on the date range and item types options.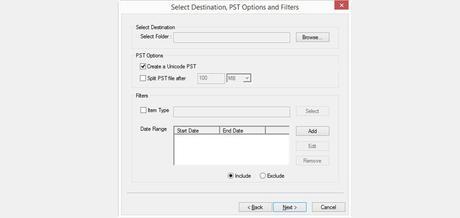  The software also provides you the facility to save individual items to various file formats like MSG (Unicode/ANSI), EML, RTF, HTML, and Text. Right-click the emails from the right pane, and select Save Item(s) to save files in desired formats as shown in the Save Item(s) dialog box.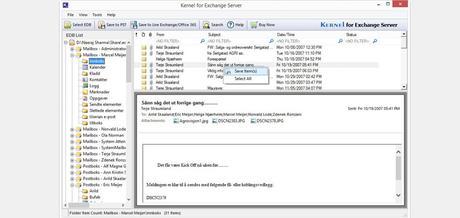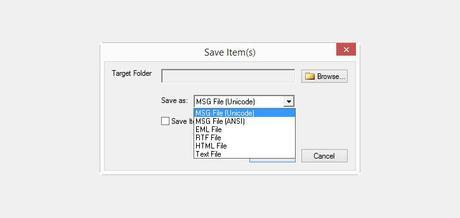  To save EDB mailboxes on live Exchange Server or Office 365, right-click the required email item and then select Save to Live Exchange/Office 365.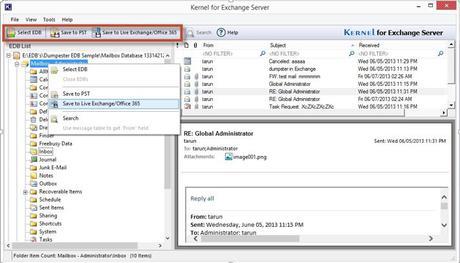  To save EDB files on live Exchange, check the Live Exchange radio button, and then configure the domain credentials of Exchange Server. Click Next to proceed.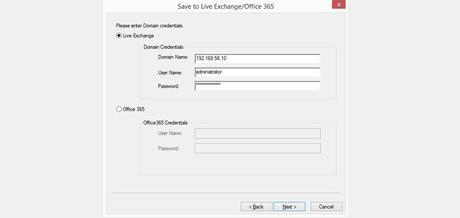  Configure the Profile Details field and check mark the Is Exchange Server 2013 option, if you are dealing with the Exchange Server 2013 edition.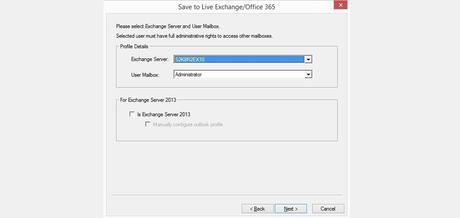  To save recovered EDB mailboxes to Office 365 cloud-based service, select the Save to Live Exchange/Office 365 option.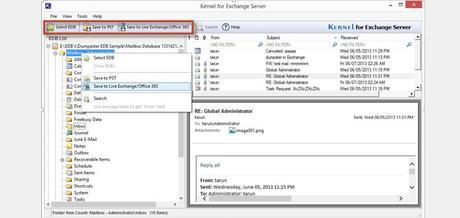  In order to connect with Office 365 account, select the Office 365 radio button and configure the User Name and Password of Office 365 account.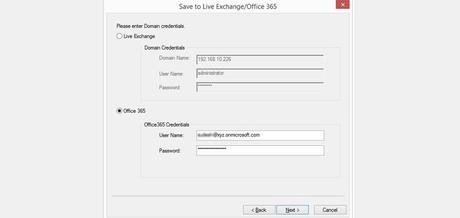 Note: After the above mentioned step, following steps are common to either Save to Live Exchange or Save to Office 365.
 In this step, you can map source mailboxes to target mailboxes. Click the Mapping button, which further displays the Select Target Mailbox dialog box.
 To import and export numerous source and target mailboxes simultaneously, make use of the CSV Import and CSV Export options.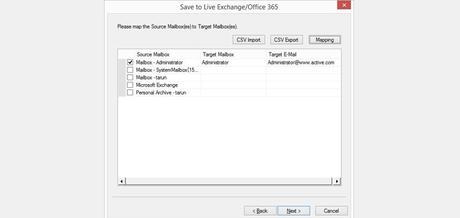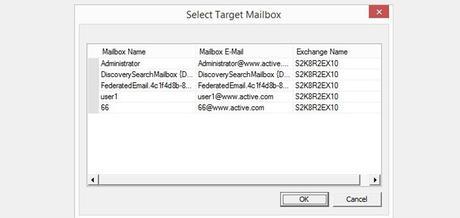  Check mark the Item Type check box to select the desired EDB mail items that are required to be saved. Apply the date range condition by selecting the Add button to segregate the EDB mails. Click Next to continue.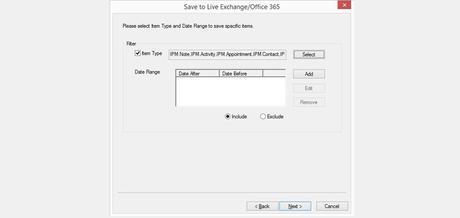  After the successful migration of EDB files to live Exchange Server or Office 365, the successful migration dialog box appears as shown in the screenshot given below.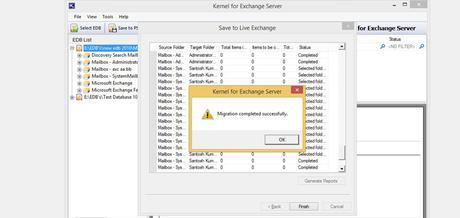 Output Analysis:
 The recovered EDB mail items produced by the software has original formatting, structure, and properties intact. Furthermore, each and every data items are recovered without any errors.
 Migration of EDB mailboxes to cloud-base Office 365 has been performed without any interruption. All EDB files are securely saved on the Office 365 account.
 Accurate transfer of EDB mailboxes to live Exchange Server has been executed without affecting the resources of Exchange Server.
 Conversion of EDB to PST has been executed and all PST files produced are compatible to all the editions of MS Outlook.
Software Advantages:
 Supports extraordinary migration facility, which allows you to migrate EDB mailboxes to live Exchange Server or Office 365.
 Preserves the email Meta data, such as To, From, Date, Time, CC, or BCC.
 Recovers severely corrupt Exchange database and produces error-free and compatible Outlook PST files.
 Supports Unicode as well as Non-Unicode PST file.Final Verdict:
In various companies running Exchange Server environment, Server Admins play a crucial role in monitoring and maintaining the Exchange database. But, many times unexpected situation causes the deletion or corruption of crucial Exchange records and database. Kernel for Exchange Server Recovery is one such solution that formidably recovers any kind of Exchange Server errors. The software has various saving alternatives and embeds extraordinary migration facility, which helps in saving the crucial time of Server Admins. It is a deal worth buy. If you face any problem related EDB file corruption and need effective recovery, then go for it without any doubt.
Rating: 9/10