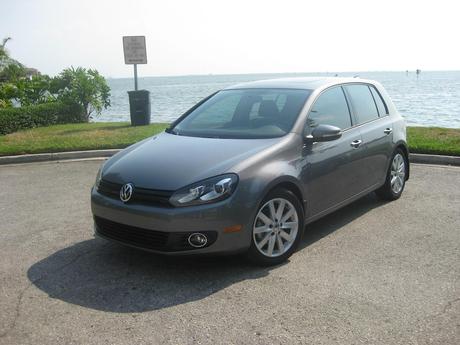 Now that I've put a couple thousand miles on the odometer, I thought I would write down some thoughts and impressions of my recently purchased 2011 Golf TDI (turbo diesel injection).
Before I start, here's some background information. Several months ago, I narrowed my vehicle search to the 2010-11 VW GTI and Golf TDI, new or used. Both cars cost roughly the same and share the same basic hatchback structure, but differ significantly in focus. The gasoline-powered GTI is much "sportier" and stylish, whereas the Golf TDI is subdued and centered on fuel economy. Excluding the cold weather package in 2011, they come with essentially the same standard features including Bluetooth, XM/Sirius capability, iPod/iPhone connector, and steering-mounted radio controls.
Ultimately, I chose the TDI because it was priced well below invoice, and I thought I would value the TDI's fuel efficiency more than the GTI's performance. Making the search difficult was the fact that I wanted 4-doors, a manual transmission, and xenon headlights from the options list. To make a long story short, in April I ended up getting a new, United Grey Golf TDI with xenon headlights, sunroof, cold weather package (heated front seats and washer nozzles), navigation, and Dynaudio sound system upgrade (8 speakers, 300 watts). Two accessories were also purchased: VW's roof rack (with aftermarket, single fork-mounted bike rack) and Monster rubber floor mats. Click "read more" for some pictures.
After leaving the dealer in Langhorne, Pennsylvania and driving the first few hundred miles back to Florida, my dad and I encountered a few issues. First, we found that the car is extremely easy to stall since the engine shuts down at a relatively unforgiving 600 RPM. After a week of driving, though, this wasn't much of an issue. Another area that has been frustrating (even though the salesman gave a good overview) is the interface of the touch screen radio, especially while programming preset radio stations. Last, I discovered that the navigation search function for diesel gas stations is essentially useless because it thinks all gas stations sell diesel. Besides these issues, everything else functioned flawlessly or exceeded my expectations—two such examples are the telescoping headlights and virtually odorless exhaust emissions.
VW's trip computer is a nice instrument to have. It calculates gas mileage for the immediate, short term (automatically resets after the car is turned off for 2 hours), and long-term (manually reset). In the first couple days of driving, gas mileage hovered around 39 miles per gallon (MPG) on the highway, but was significantly hampered by higher friction in the engine (because it was new) and the break-in instructions advising against driving at steady speeds for the first 500 miles. Since getting back, there has been a noticeable drop in fuel consumption. In city driving, it gets between 35 and 40 MPG, and on the highway between 45 and 50 MPG – far exceeding the EPA's estimate of 30 city/41 highway for the manual transmission. Furthermore, gas mileage should continue to improve by a few MPG's as the engine completes the majority of its break-in after 5,000 miles. Side note: after installing the bike rack, it didn't take long to realize it reduced gas consumption by nearly 10 MPG in mixed driving (it now sits in the garage while not in use).



Up to this point, my driving impressions of the Golf TDI are generally good. As I mentioned, I was hard pressed to detect even the faintest odor (let alone black smoke) coming from the exhaust, even after cold starts. The sound and power delivery are the only indications you're even driving a diesel. The typical "clatter" sound is perceptible but considerably muted, and vibrations are all but eliminated from the cabin. If you're listening for it, you'll hear the rumble of the engine and "whooshing" sounds from the turbo and intake when you step on the gas.
Like many German cars, the ride is moderately smooth and very stable and planted at all speeds. Its low-ish curb weight of a little over 3,000-lbs also makes for zippy cornering. The TDI doesn't have the straight-line speed, throttle response, or edgier, lower suspension of the GTI, and yet manages to be a fun daily driver. Steering is extremely light and requires little effort by the driver, but still feels very precise. The 2-liter 4-cylinder turbo diesel engine produces just 140-horsepower at 4,200 RPM, but a healthy (though short lived) 236 ft-lbs of torque from 1,750 to 2,500 RPM. Having abundant torque is good because the car never feels overloaded while carrying passengers and cargo. Outside the narrow power band, with or without passengers, acceleration is not very eager or snappy. The car also takes a second or two to build power as the turbo spools up (known as turbo lag). VW says zero-to-sixty in the 6-speed manual comes up in 8.6 seconds.
Overall, I have been very satisfied with the Golf TDI. While a handful of rivals from Japan and the U.S. can compete on price and practicality, few can match its combination of build quality, fuel economy, and fun factor. In my opinion, it's one of the best valued cars on sale.