I love a quick drying nail polish, I have lots of the Rimmel 60 Second polishes and I love them because they dry quickly and for most of the colors I only need one coat.
When I was at WalMart the other day I saw the NYC polishes were 2 for $3 and figured I would give them a try, for 1.50 I didn't have much to lose so I grabbed two colors.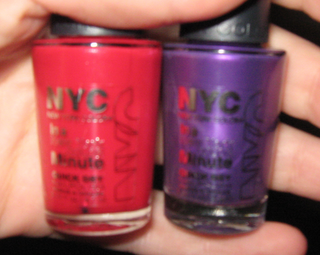 the red color is 'Madison Avenue'
the purple color is 'Prince Street'
I was pleasantly surprised by the quality of these polishes. They apply very well, I did need two coats but since they dry so quickly I didn't mind. The brushes are 'flat' which makes the polish go on nice and even.
I will definitly be picking more of these up, it's hard to beat $1.50 for a nail polish AND have it be a good quality!
What's your favorite brand of nail polish?