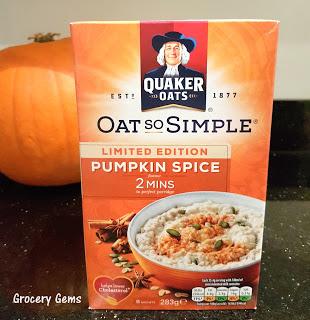 Pumpkin Spice seems to be gaining popularity in the UK and I was excited to finally find the new Limited Edition Pumpkin Spice flavoured oats from Quaker Oats. It's a microwaveable porridge with added pumpkin seeds, sugar and natural flavourings.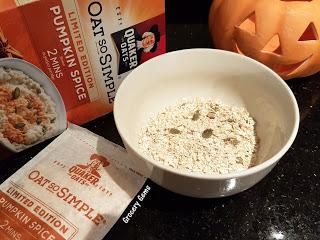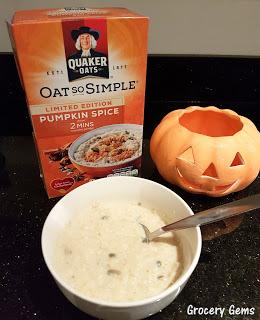 The pumpkin spice flavor itself is quite subtle and light. It's not heavily spiced at all (I couldn't really taste any cinnamon or nutmeg), but there's a lovely sweet pumpkin flavor coming through that I found delicious. The overall combination with the pumpkin seeds is both creamy and crunchy, and very satisfying. I have to point out that my fellow taste tester, the Pumpkin Spice Super-Fan Mr Grocery Gems, doesn't really agree with me about the flavor here. He thought the pumpkin spice was too weak and he wanted a  much stronger flavor. However, I like the fact that it's not too overpowering and it's obviously made with extra toppings in mind - get sprinkling some extra cinnamon on there!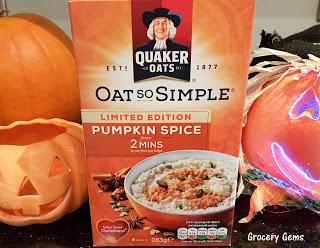 At the moment these oats are on offer for £1 a box - I'll be stocking up on a few more boxes of this limited edition for myself. If you've tried the new Pumpkin Spice Quaker Oats then I'd love to know what you thought in the comments below!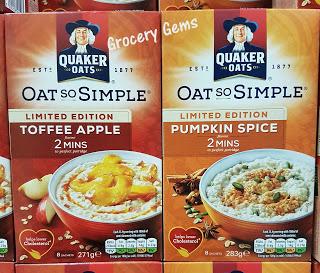 Also Spotted is a limited edition Quaker Oats Toffee Apple flavor too - perfect for November!
Grocery Gems Review: Quaker Oats So Simple Pumpkin Spice
RATING: 8 out of 10.
Buy It again?: Yes.
Nutrition (per sachet with semi -skim milk ): 226 calories.
Price: £1.00p for 8 sachets.
Purchased: Asda.