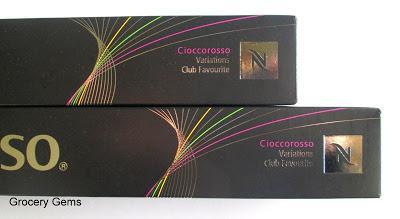 In previous years, Nespresso Variations (flavoured coffees) were released before Christmas as limited editions. This year Nespresso decided to do things a little differently, undoubtedly because they had already released three Variations  into their permanent Grand Cru range during the summer (see my reviews HERE). Instead, for the festive limited edition, Nespresso Club Members around the world were given a choice of three Variations and asked to vote for their chosen winner. The winning Variations Club Favourites were launched in each market, resulting in different winners in the various countries.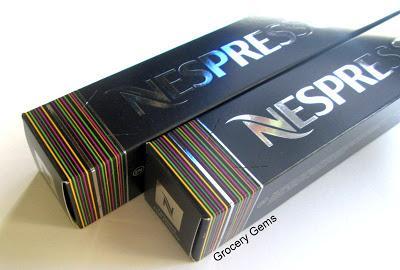 The choices in the vote were; Cioccorosso - a dark chocolate and red fruit combination, Masala Chai - an aromatic mix of cinnamon, star aniseed and clove, and Liminto - a mix of lime and mint notes. In the UK the winner was the Cioccorosso, by a fairly small margin over Masala Chai (42% and 39% of the vote respectively). I was slightly disappointed by the winner, my vote had gone to Masala Chai, by far the more interesting prospect in my opinion. However, I hope the close nature of the vote means that Nespresso will see there is a market for the Masala Chai to be released in the UK at a later date. You can see a full list of all the winners by region HERE.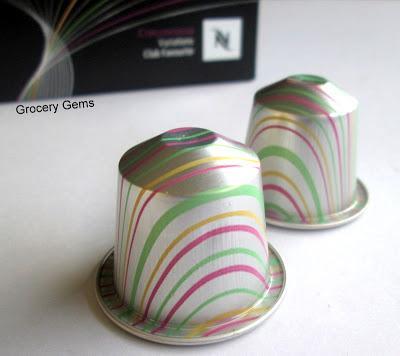 I love the design of the Cioccorosso capsules, it's great to see some bright colours injected into the usually formal palate of the Nespresso range. The coffee itself is described as marrying tantalizing dark chocolate and refreshing red fruit notes with the fragrant roasted notes of the Livanto Grand Cru. Once brewed, the aroma was immediately of the dark chocolate, which is very reminiscent of the Ciocattino Variation. However on tasting, it's not the chocolate which comes to the fore but rather the delicious and delicate raspberry flavor. It's not too sweet (these coffees do not contain sugar or added sweetneners) or overpowering, but sits deep within the base notes of the coffee itself, adding a gorgeously fruity edge to the experience.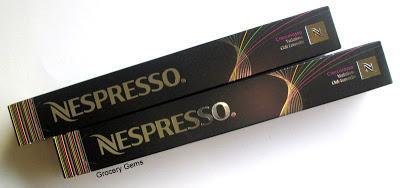 I wasn't expecting to enjoy the Cioccorosso, but I was pleasantly surprised by just how well the red fruit flavours work here, and I will certainly be buying a few more sleeves before it disappears after Christmas. I hope that Nespresso will also release the Masala Chai and Liminto varieties in the UK at some point too - in fact I wish they had just released all three as festive variations as they had done in the past!
A review of the Nespresso Masala Chai is available here: http://www.abostonfooddiary.com/2013/11/nespresso-limited-edition-masala-chi.html
I've yet to see a review of the Nespresso Liminto, it was by far the least successful flavor in the vote, but apparently it did win in the Turkey and Jordan regions. I would love to hear from you in the comments below if you have tried any of these new Variations!