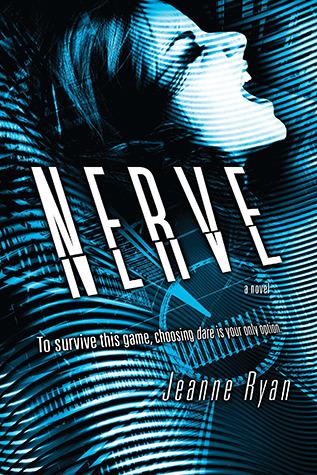 Title: Nerve
Author:Jeanne Ryan
Edition: hardcover
Series: none
Released Date: September 13th, 2012
Publisher: Dial Books
Goodreads
/
Amazon 
A high-stakes online game of dares turns deadly
When Vee is picked to be a player in NERVE, an anonymous game of dares broadcast live online, she discovers that the game 
knows
 her. They tempt her with prizes taken from her ThisIsMe page and team her up with the perfect boy, sizzling-hot Ian. At first it's exhilarating--Vee and Ian's fans cheer them on to riskier dares with higher stakes. But the game takes a twisted turn when they're directed to a secret location with five other players for the Grand Prize round. Suddenly they're playing all or nothing, with their lives on the line. Just how far will Vee go before she loses NERVE?

Vee is the girl that stays behind the scenes and doesn't dwell much from her usual status. Finally fed up because her best friend Sydney is getting more stardom than she is, Vee goes out of her usual area and participates in an online game called NERVE. The contestants live steam themselves performing a dare until the final rounds, where things start to change. Throughout the adventure, she has Ian, who she met on her second dare, and things start stirring between them.
Vee was kind of a weird character. She didn't seem very believable, because it the beginning I felt she was kind of the awkward best friend that hid in the shadows. She really liked Mathew, the popular boy, who happened to have a crush on her best friend Sydney. She decides at the last minute to join in on the NERVE game, which seemed really impulsive and not very much like something she would do. She seems entirely too shy to go into a coffee house and dump a glass of water on her face and exclaim that "coffee makes her so hot." Her personality seems to be all over, but I can tell that she just increases her confidence throughout the story. I think that may have to do something with Ian. 
Ian is kind of an odd one. I really liked him in the beginning when he was just a supporting character. As their relationship grew, I couldn't decide if I was creep by him or if I thought he was an okay guy. Honestly, I don't know. I still can't decide even after reading the novel! The end of the book didn't wrap up any feelings for him either. 
As it may seem, I didn't like this novel. Actually, I really did like this novel - it was just that I didn't like the characters. The plot, on the other hand. HOLY COWWWW. That was crazy. Some of the things weren't realistic, but DANGGGG. That was entertaining! I think that was the whole purpose of this novel. Not to have you connect to the characters, but to make you go crazy over what is happening! 
There is so much going on in this novel, that it made me really really like it! The characters weren't awesome, but the plot was pretty darn great!