Whether I'm at home, work, traveling or out and about, staying hydrated has always been a top priority for me. Staying hydrated enhances your performance and speeds recovery. You'll always find a bottle or glass of water next to me. Needless to say, when I took up running I started to look around for a good hydration solution and I knew that a regular water bottle just wouldn't cut it. What I needed was something that would ensure that my water would be easily accessible, close at hand, and never in the way. At first I had my eyes on the Nathan QuickDraw and QuickShot bottles. I wanted to try them on in order to know what it felt like wearing my bottle in my hand, but I was unable to find them in any of the stores near me (why do stores advertise a product when they don't even have it in stock?!). To my utter disappointment, I had to rule out the option of wearing a handheld-bottle.
To be honest I've been quite wary of hydration belts and heard that many of them tend to bounce around, ride up or simply fall to the ground. I've always disliked buckles due to to my irrational fear of loosing my entire finger when closing and opening  it. But, there it was…calling out my name in the distance –  Nathan Speed 2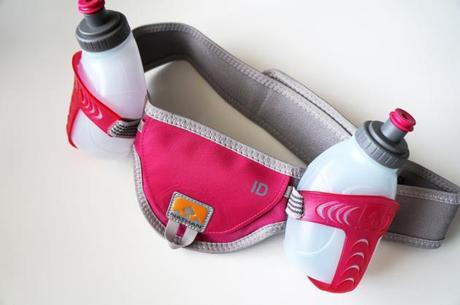 The Nathan Speed 2 hydration belt is constructed of a limited-stretch elasticized waistbelt for the best comfort and a bounce-free ride. Fear not fellow buckle-fearer (ehh is that even a word?), this belt is fastened with VELCRO for an easy adjustment on the move for a perfect fit.  The hydration belt is available in 4 sizes: S 26-32″/65-80cm, M 32-36″/80-90 cm, L 36-42″/90-105cm, XL 42-48″/105-122cm.
Two dishwasher-safe 10 oz./300 ml flasks are suited at the back, and are completely free of BPA. The belt is provided with silicone grips inside holsters, which prevents the bottles from popping out when you're out for a run.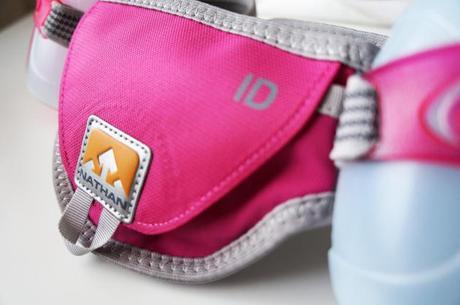 The back also consists of a "Power Stretch Mesh" pocket with an interior flat pocket, key holder and an incorporated waterproof ID and medical emergency card. In addition, the back has an airmesh moisture-wicking panel with cushions that prevents chafing.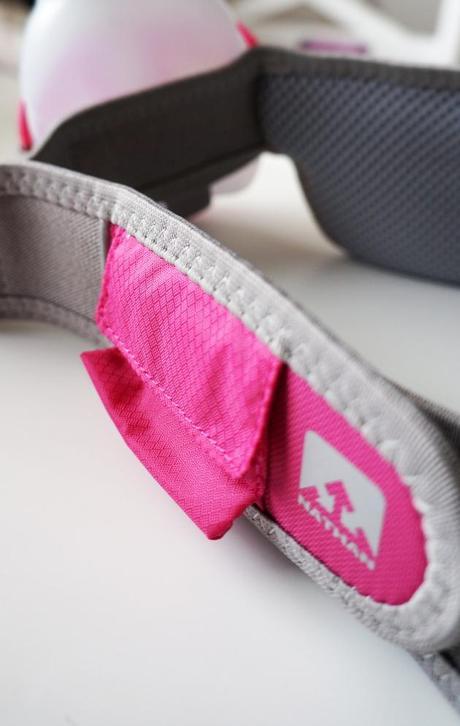 A small water-resistant pill pocket is situated at the front for quick access to salt tablets, pain relievers or other tiny objects that may be of use.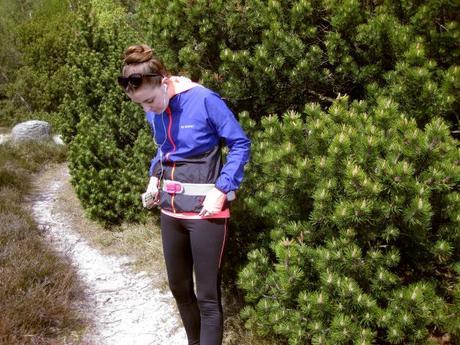 I've been trying on the hydration belt for a few weeks now in order to form an honest and truthful opinion. During my runs I've worn the belt on different layers of clothing and I've tried to determine which position would fit me the best. After some trial and error,  I would recommend wearing the belt low on your hips in order to prevent interference with breathing (and constantly having the need to visit a toilet). Having a low belt placement will also aid in bottle removal and replacement. I was able to wear the belt over my thin jacket (as seen above) without any issues, but I would have to say it's definitely more comfortable to wear it underneath or a bit lower on my hips now that I'm just wearing a top.
The construction of the belt is incredibly solid and molds to your body once you've found the right fit. Never once did I feel discomfort or the urge to take off the belt when out for a run. At first I was worried that it would annoy me, but after a while it just felt like it's an integrated part of my body. I must say Nathan did a great job with the bounce-free fit!
The water bottles are easy to fill and clean. They are even dishwasher safe, just be sure to put them on the top rack. The silicone grips holds the bottles in place and I haven't had any bottle falling out, nor did I have any issues removing them. Having two bottles that are BPA-free, makes my environmentally friendly heart flutter. I try to stay away from harmful substances as much as possible, which is why these bottles get an extra plus.
The back pocket is extremely useful when you don't want to jam your front pockets with items or leave them at home. It's not the largest pocket out there, but it's rather stretchy so it would hold your phone, jels, keys or medicine (perhaps not everything at once). I have my inhaler (should my mild Asthma suddenly catch me by surprise) in the pocket and it takes up a lot of space, so I'm unable to fit my iPhone in there as well. However, I've read that Nathan offers extra accessories/pockets for the belt, so that could be a solution if you want to bulk up.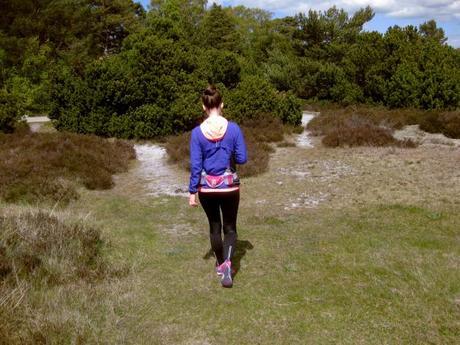 Plus:
Bounce-free fit
Easy access to water
Versatile – Great for warm days, longer runs or hiking
BPA-free
Velcro-strap
Minus:
Make sure to screw on the lid properly (which can be a bit tricky) or the bottle might end up leaking
Not the largest pocket
How do you drink when you're out for a run? Do you have a favorite bottle?