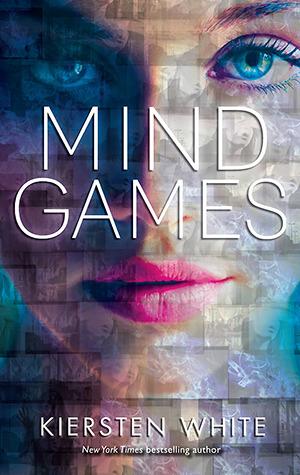 Title: Mind Games
Author:Kiersten White
Edition: hardcover
Series: Mind Games #1
Released Date: February 19th, 2013
Publisher: HarperTeen
Goodreads
/
Amazon 
Fia was born with flawless instincts. Her first impulse, her gut feeling, is always exactly right. Her sister, Annie, is blind to the world around her—except when her mind is gripped by strange visions of the future. 
Trapped in a school that uses girls with extraordinary powers as tools for corporate espionage, Annie and Fia are forced to choose over and over between using their abilities in twisted, unthinkable ways…or risking each other's lives by refusing to obey.
In a stunning departure from her New York Times bestselling Paranormalcy trilogy, Kiersten White delivers a slick, edgy, heartstoppingly intense psychological thriller about two sisters determined to protect each other—no matter the cost.

Sofia always knows what's going to happen before it happens, just because of her flawless instincts. Annie, her blind sister, knows what's going to happen before it happens, just because of her unique power of telling the future. Both girls live where they are forced to help a man take down whatever it is he wants eliminated. After Annie tells the future of a man she wants dead, Sofia is forced to go and find him and kill him.
There were many things wrong with this novel, but there were some good things about it too.
First of all, the length. This book was short. It was only like 256 pages, and I was able to read this one in under 2-hours. Sometimes a shorter length like this is good, but not in this case. This book could have had so much more development and if it would have added say another 50 or so pages, it would have been dramatically increased in interest level.
Then there's the lack of development. Sure, the girls were developed a little bit. I just feel that they could have been developed even more if there were more pages. It wouldn't be so rushed! 
The one thing that was developed well was the girl's relationship. Annie is the older sister, but she's blind and sometimes has troubles taking care of herself. Her younger sister, Sofia, or Fia, takes on the role of the protector for Annie. They just have little things the do with each other that make them seem more real and comfortable to read about. The feelings that Fia has over her sister are just so strong, but sometimes she has to do things that go against what her sister thinks. 
I think out of the two sisters I prefer Fia. She's just stronger, but a bit crazy actually. I'm really curious about her power though. There are many people at this school that Fia and Annie attend that can predict the future like Annie, or can read people's minds and sense their feelings. Yet there's no one that has the incredible instincts of Fia, and I hope the future novels go in more depth with that. 
Now onto Adam. He was the guy that Fia was supposed to kill, but then for some reason she just decides "ehhh, let's not kill him." She didn't really have a reasoning, which was weird. Then he kind of disappeared and didn't show up until later in the book. I'm intrigued by his character, but I wish there would be more going on with him! I could picture either of the girls having a romance with him...
But then there's Fia's main squeeze: James. She's known him for her whole time being at this school, and their relationship is interesting. I think it was the intense back-and-forth that I enjoyed.. She was playing hard-to-get, simply because she was hard to get. I can't picture Fia settling down for a very long time. It's just not her personality. I still liked these two together, though! 
Then the ending... It was just kind of a "uh, what?" moment. I feel like my reaction should have consisted of surprise, anger, and a little confusion that would result in me flying through the next few chapters.... but, I was just left kind of confused...
So, there wasn't much about this novel that I liked. There were some things, but I think the negatives kind of brought it down really low for me. The book was slow at some points, and then really intense. The characters weren't developed really well, and there just wasn't much to grasp onto. I'm still debating if I'm going to read the sequel when it comes out... I know this was one of those books where you either loved it, or you disliked it, and I seemed to be on the latter end.