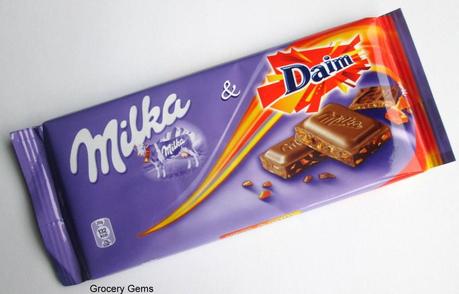 A few months ago I reviewed the then new Cadbury Dairy Milk with Daim bar (review HERE) and I mentioned that I was keen to try the older Milka & Daim to compare. Even though the Cadbury bar has supposedly replaced the Milka version in the UK they still seem to be fairly easy to find, especially in local grocery stores and discount shops. My local WHSmith seems to have a steady supply too!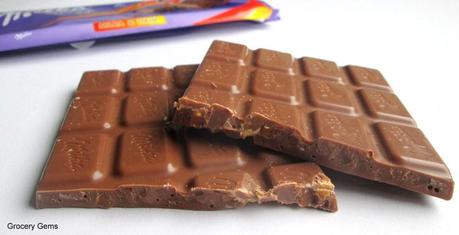 The Milka & Daim is a fairly sleek looking bar, which is much slimmer than the Cadbury version. This makes the Daim chunks within it look much bigger in comparison.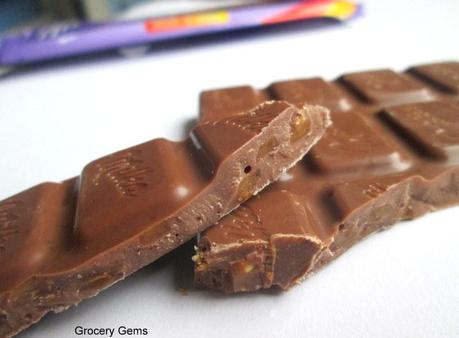 The milk chocolate is a fairly standard sweet Milka affair, but there is a decent chocolate to Daim pieces ratio which gives this bar a lot more Daim flavor compared to it's Cadbury cousin. Although I prefer the flavor of Dairy Milk chocolate overall, this Milka bar has the advantage of being slightly more generous with the Daim pieces. It's definitely my favorite of the two so it would be a real shame to see this one disappear completely.
As an aside, Cadbury has seen fit to release new Dairy Milk Daim Eggs for Easter, which are of course popping up in the shops already. I don't feel quite ready to plunge the depths of the Easter chocolates just yet (it's still January!!) but I look forward to reviewing those in the coming weeks. 
Grocery Gems Verdict: Milka & Daim
RATING: 8 out of 10
Buy them again?: Yes.


Nutrition (per 25g)

: 132

 

calories

.




Purchased

:

 WHSmith


Price (100g bar)

: £1.00.