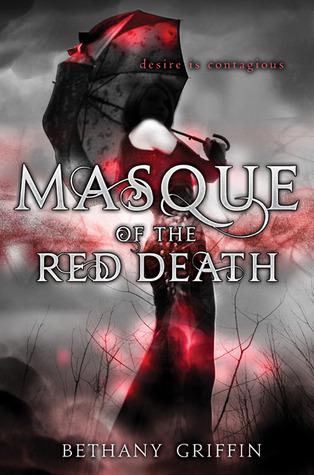 Title: Masque of the Red Death
Author: Bethany GriffinEdition: hardcoverSeries: Masque of the Red Death #1Released Date: April 24th, 2012Publisher: HarperCollins
Goodreads

/

Amazon 
Everything is in ruins.
A devastating plague has decimated the population. And those who are left live in fear of catching it as the city crumbles to pieces around them.
So what does Araby Worth have to live for?
Nights in the Debauchery Club, beautiful dresses, glittery make-up . . . and tantalizing ways to forget it all.
But in the depths of the club—in the depths of her own despair—Araby will find more than oblivion. She will find Will, the terribly handsome proprietor of the club. And Elliott, the wickedly smart aristocrat. Neither boy is what he seems. Both have secrets. Everyone does.
And Araby may find something not just to live for, but to fight for—no matter what it costs her.
Always keep your mask on - that's one of the only things Araby lives by. The air is contaminated, and thanks to her father, everyone in the city can live safely if they keep their mask on. As cautious as she is with her mask, Araby still takes risks and adventures to the Debauchery Club where she gets drugs from the males there. Don't worry, she doesn't do anything with these guys besides get their drugs. She vowed years ago that she would never do anything her younger brother Finn didn't get to do, and that includes kissing and holding hands. Things change when Araby's best friend April disappears and Araby is joined by Elliot, the mischievous brother of April, and Will, the caring older brother of two young children. Araby ad her group is faced with some scary government people, misleading family members, and plenty of dead bodies.
The darkness of the novel really drew me in. From the cover, I knew it was going to be semi-dark, but some YA books with covers like these don't really live up to that 'dark' factor. The instant I started reading though, that mindset changed, and I felt encompassed in a creep-tastic world. Is it bad that I'm calling it 'creep-tastic' like it's a good thing, even though there's loads of dead people in the street and dead babies in carriages?
I liked the contrast that Araby had when she dealt with different characters in the novel. With April, she's promiscuous, yet she sticks to her values and her promise to her dead brother, Finn. When she's with Elliot, she's got fire and spice that I absolutely love in characters. By Will, and his two younger siblings, she takes on the caring 'maternal' role. Now this kind of seems like a patchy character, that's just got a bunch of personality traits thrown together, but once you know Araby's background, you'll understand why she's like that.
Usually when it comes to love triangles, I'm totally torn between the two choices or I want the girl to end up with one, but I'd be perfectly okay if she ended up with the other. For this novel, that's not the case: I'm totally for Araby & Will! Their relationship is just so adorable and chaste - it's really cute. Elliot and Araby, on the other hand, are really bumpy and weird and they just don't seem good for each other. This could be due to the fact that I'm EXTREMELY confused by everything Elliot does. He's just different, I'd say.
THE WRITING. OH MY GOSH. This book was simply amazing with the writing - every word was just fricken AWESOME. Bethany Griffin definitely has a way with words. Is it weird if I say that I'm in love with Bethany's writing style? Like seriously in love? It's descriptive, but not too descriptive; it's eerie, but not too eerie; it's beautiful, and holy fricken crap, it's just BEAUTIFUL. Now usually, I don't really worry too much about the writing, unless it's terrible or unless it's awesome. And as you can tell, it's clearly the latter. You could clearly tell the characters feelings by the way Bethany wrote - when Araby was irritated, her thoughts were short and choppy. When she was dazed and dreamy, the words just flowed together in long sentences.
Personally, I thought the whole thing with the masks and disease was because of the plague called the Red Death. But nope, the Red Death doesn't come into play until like the last 100 pages. When I first saw this book, I absolutely loved the title, but I hated how it didn't have anything to do with the plot until later. Of course, this was based off of Edgar Allen Poe's short story, so maybe that has something to do with it.
As you can tell, there were some things in Masque of the Red Death that I really liked (cough, writing style, cough), but there were some other things that I was a tad bit confused on. I was extremely satisfied with this novel, and I can't wait for the sequel, Dance of the Red Death, which is coming out next April!