Marks & Spencer's have upped their game for school uniforms this year with a number of innovations that should help speed up your mornings.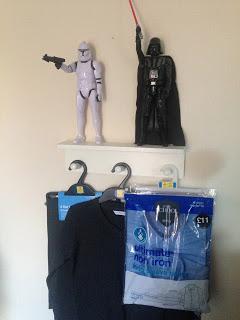 The schools go back in Glasgow on the 13th August... not long now... so it's time to get organised with school uniforms, school bags etc. I used to love selecting out a new pencil case for going back to school and my son this year has chosen an R2D2 one. It's got a motion-activated Star Wars sound inside, but thankfully it can be switched off - don't think the teacher would like me otherwise!
My son is starting Primary 2, so it's really about time that he was getting himself dressed in the mornings. He's nearly there... but getting the buttons done up on his shirts are always tricky. The M&S Ultimate Non-Iron, Stain Away Shirts have an "easy close" top button. It's a clever velcro closure behind the top button and this means that the eldest can get dressed by himself - no excuses now! The shirts also have "Expandicuffs" which also means that he doesn't need to worry about mastering one handed button closing. Instead the elasticated cuffs can be easily slipped on and off. Plus they're non-iron and stain away (yet to be tested I have to add - watch this space) - definitely a bonus for busy parents. I just need to get quicker at tying the school tie!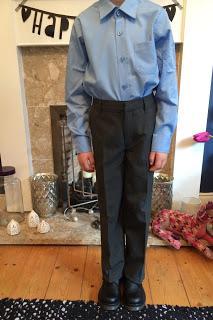 M&S Boys Ultimate Non-Iron, Stain Away Long Sleeve Shirt and Boys Flat Front TrousersDespite not yet being 6 years old (very nearly... 9 more days to go!) he's in age 7-8 year clothing. He's a tall boy!!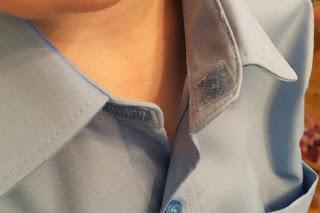 This is the first time that I've seen a school shirt which a velcro top button. I have to say it really is quite a clever concept. I guess my only concern is that the velcro loses it's sticking power as the shirt is washed and washed. The shirts that I bought for P1 with a regular top button lasted for the whole school year, so hopefully these will be the same.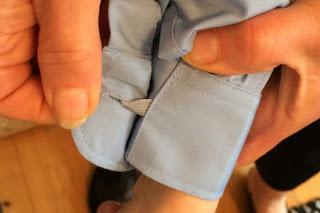 Expandicuffs
There are other innovations too:
Adjust-A-Hem - hems with an extra 3 inches of material that can be let down as your child grows. Just iron in place, no needle & thread needed.
Permanent Pleats - pleats that stay, even after washing - no need to iron them in.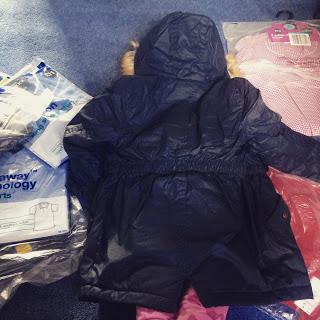 The littlest hiding under her new jacket for nursery!
Here's to stress-free, simple school-day mornings - thank you M&S


We received £100 towards new school uniforms from Marks & Spencer in exchange for this review. Opinions are honest and are my own.