I'm a huge fan of Dizzie (previously The Good Club), the online refill shop.
I place an order each month (I pay £3.99 monthly which gets me unlimited delivery and returns per month... it's £5.99 per delivery if you choose to place orders on an ad hoc basis), and my products get delivered to my door in a big green box (it's UK-wide carbon neutral delivery). 
Dizzie stock a wide range of refillable groceries, as well as other items. For the refillables, when my big green box arrives I take the refillable cartons and empty them out into my own glass jars (Dizzie sell glass containers too, but I also just keep a store of any glass jars at my house that I clean out and keep). The empties then go back in the big green box, which is collected from my door the day after my delivery.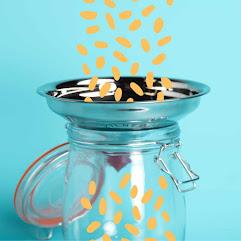 Some of the items that I get from Dizzie are:
Bulk items:
5L shampoo
5L conditioner
5L shower gel / bubble bath
5L laundry liquid
5L fabric conditioner
5L all purpose cleaner
Refillables:
Ground cumin
Ground turmeric
Ground cinnamon
Ground paprika
Sesame seeds
Sunflower seeds
Baking powder
Pretzels
Crisps
Cashew nuts
Muesli
Porridge oats
Pecans
Bombay mix
BBQ almonds
Peanut D&Ds
Pasta
Rice
Flour
Caster sugar
Dates
Prunes
Dried apple slices
Other groceries:
Tins of chopped tomatoes
Jars of pasta sauce
Compostable bin liners
Recycled kitchen towels
Oat milk
Dash water
Oatcakes
Olive oil
There are soooo many refillable products available - definitely worth having a look.
There is a special offer running right now, where if you enter the code REFILLER at checkout you will get a refill kit containing (2 x 2L jar, 1 x 1L jar, 1 x kilner funnel and 1 x Dizzie jar labels). You need to spend £20 to qualify, and it's whilst stocks last.
I also have a referral link, which is https://getdizzie.com/j/sarahseqtbm, and if you use this I get £10 off my next order and you'll get a free refill kit (as photographed below) and the reusable coffee cup.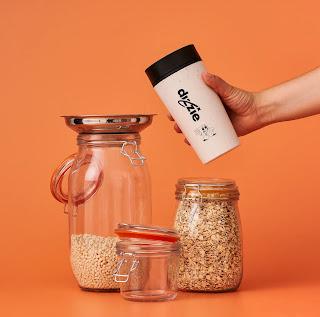 Happy refilling!!
Sarah x
P.S. If you want to get my weekly newsletter, you can sign up here to get on my mailing list:
www.sarahstewart.co.uk/newsletter