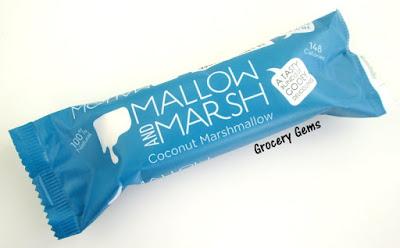 Last year I reviewed the Mallow And Marsh Raspberry Marshmallow, that I received in a Degustabox, and really enjoyed. I've been looking out for the coconut version for some time now and Mr. Grocery Gems finally found it in a Whole Foods store.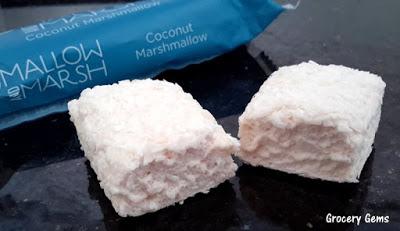 The texture is just as soft and squidgy as I was hoping with a deliciously sweet and strong coconut flavor. It's a really good combination but funnily enough I preferred the Raspberry Marshmallow overall. That one just had a sensational fruity flavor that I couldn't get enough of. Given the choice I would definitely go for the Raspberry flavor again, but I would still recommend the Mallow And Marsh Coconut Marshmallow to any coconut fans.
Grocery Gems Review: Mallow And Marsh Coconut Marshmallow

RATING

: 7 out of 10.


Buy them again?: Raspberry all the way.


Nutrition (per 25g serving)

: 83

 calories

.

Purchased

: 

Whole Foods (also available at Sainsbury's)


Price

: £2.00p.