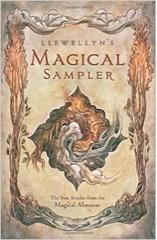 Delve into the brilliant minds of the most popular magical writers and discover powerful tips, techniques, and lore for important esoteric topics. With more than seventy articles organized according to the four elements, this book is an indispensable of magical ideas for casual magic users and aficionados alike. - From the back cover
This book is exactly what its title says it is - a 'Magical Sampler'. 
Llewellyn have long been associated with all things esoteric, and in this title they have brought together a sampling of the very best articles from their publication, the Magical Almanac. These selections were made from a twenty-five year history of the Almanac. The big names of the magical arts are here - Raymond Buckland, Scott Cunningham, and Silver Ravenwolf, along with lesser-known writers on the subject.
The contents are divided into four sections - Earth. Air. Fire. Water. - and include articles on divination and meditation, health and healing, and personal power, to name just a few. You will find instruction for simple rituals, natural remedies, and various types of divination. 
Dip in and out as you please. Each article is short (nothing over ten pages), specific and focussed. Whether you call it witchcraft, paganism or spiritual practice, this book is a wealth of knowledge, presented in an engaging way, making it a good introduction to the mind, body, spirit work of the modern practitioner.