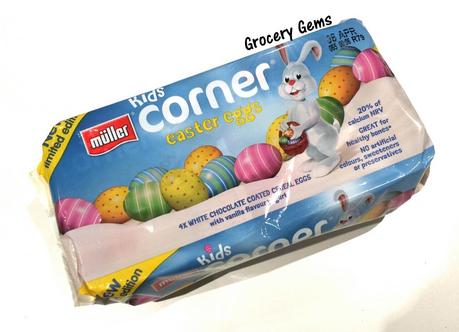 There have been so many new Müller yogurts released in the last few weeks and I was especially curious about the Limited Edition Kids Corner Easter Eggs. The packaging is vibrant and fun, and looks like a cute product for Easter time.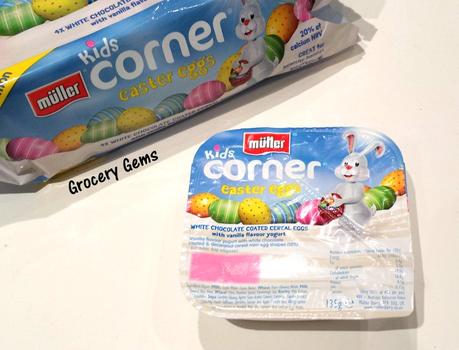 The Müller Kids Corner Easter Eggs are described as vanilla flavoured yogurts with a side portion of white chocolate coated cereal balls.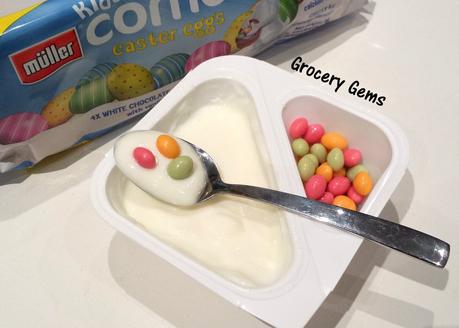 Even though the egg shaped cereal balls are brightly coloured, their appearance is still slightly disappointing. I was expecting them to look a bit more like Easter eggs on the packaging, perhaps with a speckled pattern. These look more like sweets or jelly beans rather than Easter eggs. Having said that, my kids enjoyed these yogurts and they liked the fun egg shapes (even though they are both too old for these things!). 
The vanilla yogurt and white chocolate cereal balls combination has been used in many of the other Müller Kids Corner range, such as the Müller Kids Footballs and Blast Off yogurts, and is a popular one with my kids. The cereal balls have a lovely sweet crunch and taste delicious with the creamy vanilla yogurt.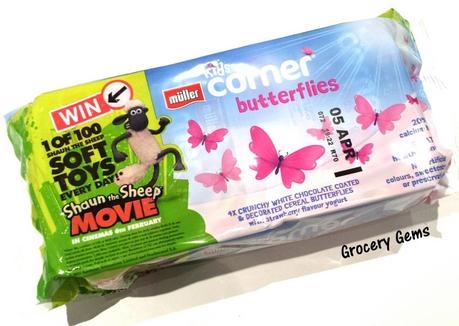 There is also a new Müller Kids Corner Butterflies variety available with a strawberry flavor yogurt and white chocolate coated cereal butterfly shapes.


Grocery Gems Verdict: 

Müller

 Kids Corner Easter Eggs Yogurts



RATING: 7 out of 10.Buy them again?: Yes.
Nutrition (per 100g): 146 calories. 
Purchased: Asda. 
Price: £0.95p for multipack of 4 (introductory offer)