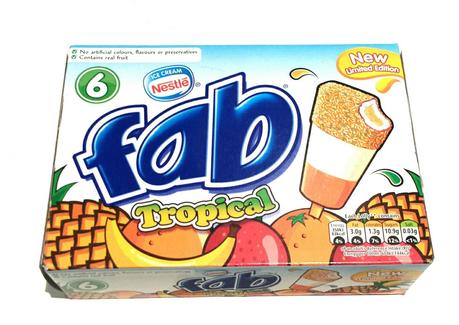 Fab Tropical is a new limited edition flavor for the classic ice lolly brand. It's a great idea and, even though we enjoyed their last new flavour, the Apple & Blackcurrant, this Tropical flavor is much more appealing. The Fab Tropical is described as a mixed tropical fruit flavor ice lolly with a chocolate flavor coating and sugar strands. From the ingredients there are natural fruit juices from pineapples, oranges and passion fruit, with a small amount banana puree too. The ice lollies are also free from aritifical colours, flavours or preservatives.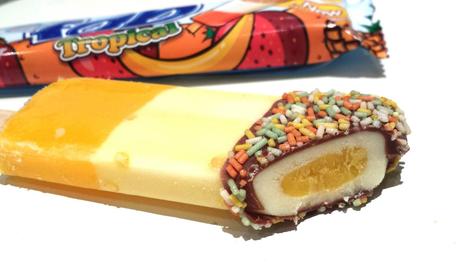 In terms of flavour, the top half of the ice lolly is dominated by the chocolate and sprinkles coating, so there was only a light tropical fruity flavor coming through. Underneath this top layer, I initially found the combination of pineapple and passion fruit created a mango-like flavor in the main ice lolly. This sweeter tropical flavor then gives way to a stronger passion fruit taste with a pleasingly tangy edge. It definitely feels strange eating an ice lolly when it's still winter, but once the days start getting warmer, I'm sure these will be fab (sorry couldn't resist!). 
Overall, it's lovely to see an updated twist on a favorite classic ice lolly. I hope they release these in a Mini version aswell, like they did with the previous Fab Apple & Blackcurrant edition.
Grocery Gems Review: Fab Tropical
RATING: 8 out of 10 (for both).
Buy them again?: Yes.


Nutrition
: 83 calories per 58ml ice lolly



Purchased

:

 Sainsburys

Price

: £2.00p for a box of 6.