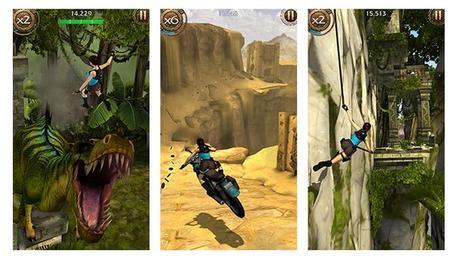 Lara Croft Relic Run is a much more advanced endless runner than rest of the games in the category. In the game, everyone's favorite, badass relic hunter, Lara Croft returns to save the day. The game begins with a prologue that explains why Lara is running like crazy in this game. Then you move to the running part.
Gameplay
Even though the game is an endless runner, it's filled with plenty of action, like tapping to shoot strange creatures, wall-running, jumping walls in slow-mo parkour-style and even riding quad bikes.
Gameplay is so smooth that it feels like a console game. Graphics aren't as fancy as Temple Run: OZ, but it's good enough to make the game worth while. After all, the game is free, so you can't really blame it.
In-Game Features
You can sign-in to the game with you Google Play Games account, so all your progress gets saved. You can also connect your Facebook to challenge and compete against your friends.
You'll also be playing the game a lot since there a ton of unlockables are available in the game, including additional Lara Croft outfits, weapons, upgrades and more.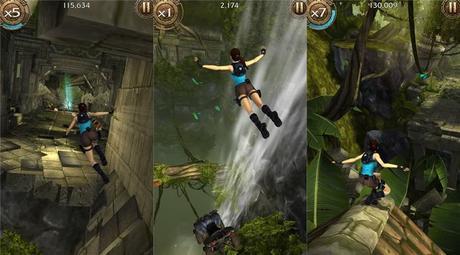 Read Also: The Original TOMB RAIDER Game Now Available on Android
Since this is a free game, it comes with in-app purchases. Usually, I don't mind paying a couple of bucks to purchase some stuff to help out the developers. But, the stuff in this game are way too expensive. For example, 100 gems costs $1 dollar in the game, but you can't even use it to unlock a different Lara outfit because those costs 150 gems.
freshINFOS Rating
I was a big fan of Tomb Raider since its' first release. This game succeeds in keeping the franchise reputation. So, game deserves a 5-star rating. Sadly, I'll have to remove half a star due to the game's expensive unlockables.

Lara Croft Relic Run is available on Google Play, Windows Store and App Store for free!
 
(All images, trademarks shown on this post are the property of their respective owners)
Follow @nrjperera – Roshan Jerad Perera