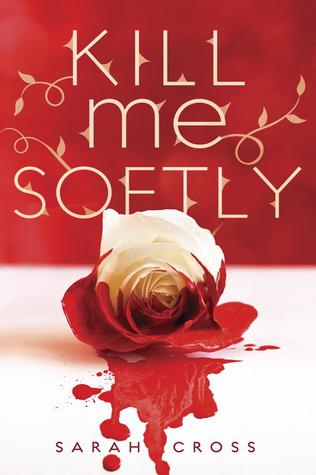 Title: Kill Me Softly
Author: Sarah Cross
Edition: ebookSeries: noneReleased Date: April 10th, 2012Publisher: Egmont USA
Goodreads

/

Amazon Mirabelle's past is shrouded in secrecy, from her parents' tragic deaths to her guardians' half-truths about why she can't return to her birthplace, Beau Rivage. Desperate to see the town, Mira runs away a week before her sixteenth birthday—and discovers a world she never could have imagined.
In Beau Rivage, nothing is what it seems—the strangely pale girl with a morbid interest in apples, the obnoxious playboy who's a beast to everyone he meets, and the chivalrous guy who has a thing for damsels in distress. Here, fairy tales come to life, curses are awakened, and ancient stories are played out again and again.
But fairy tales aren't pretty things, and they don't always end in happily ever after. Mira has a role to play, a fairy tale destiny to embrace or resist. As she struggles to take control of her fate, Mira is drawn into the lives of two brothers with fairy tale curses of their own . . . brothers who share a dark secret. And she'll find that love, just like fairy tales, can have sharp edges and hidden thorns.
I've never been that interested in fairy tales, mostly because I don't know any of them. I've been semi-deprived of Disney movies and books so I really had no clue what I was getting into. Kill Me Softly helped me understand the main fairytales a little better, and even some lesser known ones.
Mirabelle, who's a reincarnation of Sleeping Beauty, is a pretty cool character at times. But not always. She can be pretty messed up when it comes to romance and all that crap. She's kind of weird in the beginning when she was leaving her godmothers, but once she reached Beau Rivage she becomes pretty cool! She's got that hard outer appearance that yells 'stay away from me' but at the same time it makes other intrigued. Clearly it made a few people curious - like the Valentine brothers.
Sarah Cross wrote some pretty sweet guy characters, and I was pleasantly surprised! Blue and Felix are the brothers and the love interests in Kill Me Softly, and their stories are pretty intriguing. Throughout the first half of the novel, Mirabelle is totally in love with Felix. It's actually quite sickening how in love she is. Meanwhile, she's annoyed with Blue all the time but that's because Blue has a secret. Felix and Blue both have the same curse, but they treat this curse differently. I like seeing the contrast between these two brothers!
I really really liked the storyline for this - with all the supporting characters and the motives behind some of their actions. It was a really interesting mix going on. Some of my favorite supporting characters were Viv, Jewels and Beast! They were all fricken awesome!
I don't really know what to write for this review, because I don't want to reveal much more of the plot! Also, I don't believe there is going to be a sequel, but Kill Me Softly will definitely leave you wishing you could travel to Beau Rivage and meet all these awesome characters!