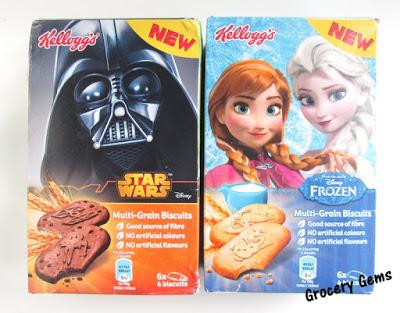 The recent Star Wars and Frozen cereals have obviously been a hit with kids and film fans alike, with September seeing the launch of another Disney themed product from Kellogg's. The new Kellogg's Frozen and Star Wars Multi-Grain Biscuits feature fun Disney designs and are high in fiber with no artificial colours, flavouring or preservatives.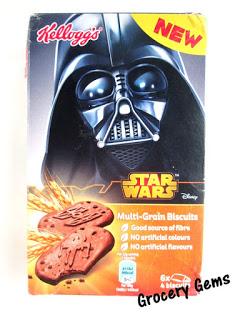 Each box contains 6 individually sealed packets of 4 biscuits. The Star Wars Multi-Grain Biscuits are chocolate flavoured biscuits with added chocolate pieces.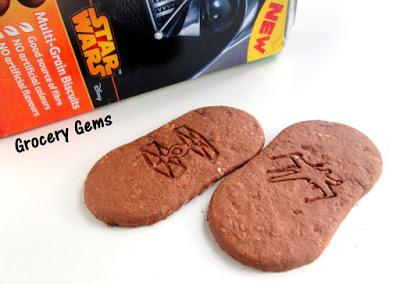 The Kellogg's Star Wars Biscuits all feature either a TIE Fighter or X-Wing design (totally didn't need to look that up on google...). The flavor here was not the simple chocolate and oaty combination that I was expecting. The chocolate has more of a cocoa flavor that is quite milky. It's hard to describe but my son said it was like a creamy hot chocolate in a biscuit. The cereal base is not too sweet and the added chocolate pieces provide an extra pop of chocolatey flavor.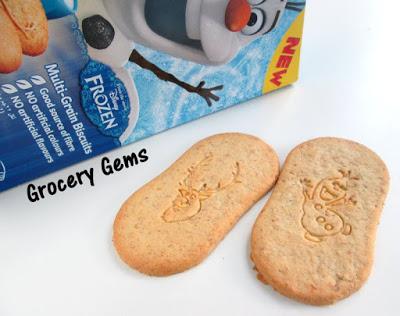 The Kellogg's Frozen Multi-Grain Biscuits are described as cereal and milk flavoured. The designs featured are Olaf the snowman and Sven the reindeer which are both really cute. The flavor here is sweeter than the chocolate version, with a lovely vanilla aroma and taste, against a wheaty and oaty background. This was my kids' favorite of the two biscuits, although I wasn't surprised as they usually favour vanilla flavor over chocolate.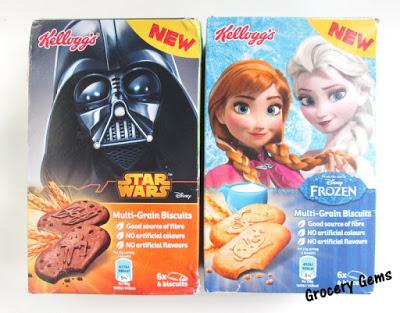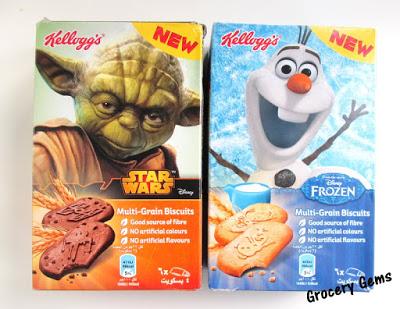 I love how the boxes have images on both sides and can be displayed either way. The Star Wars boxes have Darth Vader/Yoda sides, whilst the Frozen boxes have Elsa & Anna/Olaf sides. I'm sure these Multi-Grain biscuits will be very popular with fans young and old, especially with the upcoming release of the new Star Wars movie, The Force Awakens, in December.
Grocery Gems Review: Kellogg's Star Wars Cereal
RATING

: 8 out of 10,


Buy them again?: Yes - especially the Frozen biscuits.


Nutrition

: 

 96 calories (per 2 biscuits)

.

Vegetarian: Yes.


Purchased

: 

Available at most supermarkets


Price

: RRP - £2.49p (box of six packs x 4 biscuits).

Check out my previous reviews:
Kellogg's Disney Frozen Cereal Review

Kellogg's Star Wars Cereal Review

PR Samples.