So this is more of the stash that I picked up on my trip to Karen's Body Beautiful here in Brooklyn last month. I actually bought more of this product than her Creamyliscious but in hindsight, I think I should have swtiched that around.
Karen's Body Beautiful Butter Love $18.00 ($8.00 travel size)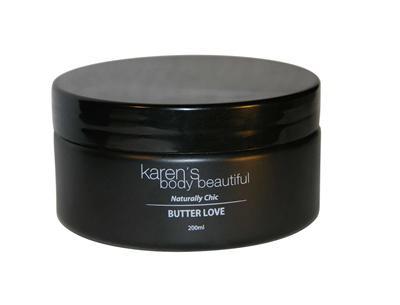 Ingredients: Shea Butter, Cocoa Butter, Mango Butter, Jojoba Butter, Aloe Butter, Essential and/or Fragrance Oils, Grapefruit Seed Oil & Vitamin
The consistency of this product is a like slightly melted pomade. The thing that's nice about this product is a little goes a long way. It's also extremely moisturizng. That being said, it really doesn't provide any hold, so my twistout, although cute for a day,and incredibly soft, it was all fluffy by the next day. (I like my twistouts to last at least four or five days.) The ingredients are great, but the price is kinda steep. And I love that there are no cones, parabens or icky stuff, but I kinda feel like I could make this. I'll definitely be using the rest of this product to seal my ends when twisting and for deep conditioning. And the container is just waiting to be upcycled into my new hairclip holder.
RATING: 3 Suitable – Good product, great ingredients, kind of expensive for only one type of use.

This product is available from Karen's Body Beautiful
Savvy Ratings: 5=Savvy 4=Smart 3=Suitable 2=Satisfactory 1=Stupid
- Have you tried KBB's Butter Love? Whaddya think?