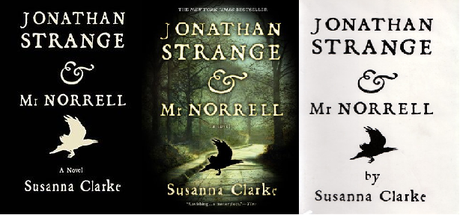 JONATHAN STRANGE AND MR. NORRELL
BY Susanna Clarke
Published: 8th September, 2004
Publisher: Bloomsbury
Genre: Fantasy/Historical Novel/Alternative History
Format: Hardback
Pages: 782
Cover Art
I love my copy of this book. I have the one on the right; a huge white hardback with the title in black...so simple and effective. When imagining these covers remember they are on an absolutely mammoth book which makes them look so much more impressive.
It is obvious that the publishers knew what they wanted the cover to look like as there is very little variation between them. All have the raven silhouette which is very fitting due to the importance of these birds in the novel. I do like the creepiness and sinister air of the middle cover but I still think the black on white is best; it is really striking. 
Plot Synopsis
This book is slightly too massive for me to be able to do a very good summary so this is the one taken from Goodreads: 
At the dawn of the nineteenth century, two very different magicians emerge to change England's history. In the year 1806, with the Napoleonic Wars raging on land and sea, most people believe magic to be long dead in England--until the reclusive Mr Norrell reveals his powers, and becomes a celebrity overnight.
Soon, another practicing magician comes forth: the young, handsome, and daring Jonathan Strange. He becomes Norrell's student, and they join forces in the war against France. But Strange is increasingly drawn to the wildest, most perilous forms of magic, straining his partnership with Norrell, and putting at risk everything else he holds dear.
My Rating

First Lines:
'Some years ago there was in the city of York a society of magicians. They met upon the third wednesday of every month and read each other long, dull papers upon the history of English magic...'
Review
I definitely enjoyed reading this book although in a strange way Iam not completely sure why! There is not too much in the way of plot considering how long it is and the pacing is very slow. However, it manages to be brilliant. Somehow. It's like it's saying 'I don't care what most books do, I'm going to rise above it and be classy and aloof and you will love me for it'. Which I did. 
This book reminded me of so many other books and literary traditions. I found my mind making connections to other books as I read it...it is like a vast expanse of Victorian novel, a Dickens or an Eliot, whilst at the same time reminding me of the very short tale of Jekyll and Hyde (it even has a character called Mr Hyde which may or may not be a coincidence). I think it is supposed to take you back to all those novels so closely associated with Victorian England and it completely does. It is set in the labyrinthine streets of a darkened London like a Dickens novel, the true industrial 'Big Smoke' that it was in those days with huge dank factories and steam trains. It has the magical realism and charismatic Satan-esque character (he is a fairy...I'll come back to him!) of 'Master and Margarita' and the eccentric sinister air contrasted with innocence that is found in 'Charlie and the Chocolate Factory'...and most Roald Dahl books really. It even reminded me of Terry Pratchett and the wizards of the Magical University; old men who read and talk about magic instead of actually practicing magic. Mash all those books together in a big blender and this is what comes out. Lovely! 
In the Wikipedia entry on the book it says that this book, 

overtly inverts the Industrial Revolution conception of the North/South divide in England: in this book the North is romantic and magical, rather than rational and concrete. It can be usefully compared and contrasted with

Elizabeth Gaskell

's attempts at synthesising a unitary English identity in her fiction. I have read 'North and South' by Elizabeth Gaskell and, again, it is an iconic piece of Victorian literature which people remember as the novel which most clearly and obviously commented upon the divide between the North and South of England during the time.  Again, Susanna Clarke makes the reader conjure up associations to this novel and inverts English history. Perhaps she is thinking of a mirror image world; a world where North and South were back to front and where magic has managed to leak through the cracks.
Wikipedia also tells us that the narrative draws on various Romantic literary traditions, such as the comedy of manners, the Gothic tale, and the Byronic hero. All these elements are present and correct and serve to add layers to the text that again place it within the time period and really gives it a particular atmosphere. It also says that the novel's language is a pastiche of 19th-century writing styles, such as those of Jane Austen and Charles Dickens, and that Clarke describes the supernatural with mundane details. Now this is definitely a feature I noticed whilst reading it. The most amazing things happen in this book but, because of the way Clarke describes them in such a blase way, you don't feel they are unusual at all! In a way I suppose if you imagine that the protagonist of Harry Potter was someone used to growing up with magic and found the world they were in completely normal, that gives you an idea of what this book was like.
Another interesting feature of this book was the way Clarke supplements the text with almost 200 footnotes, outlining the backstory and an entire fictional corpus of magical scholarship. She makes it seem as though real books and essays are being referenced and it is very convincing! I wish it was real. I love books that have unusual formats and meta fiction which pretends it is a historically accurate book when it isn't at all. If these things appeal to you as well then you will love this book. Also, if you're into Library Porn (you love  huge, old-fashioned, creaking-with-old-and-rare-books libraries) then the one at Mr. Norrell's estate Hurtfew is rampantly gorgeous and I want to go and build and nest in the corner and lie on my stomach all day reading books about magic.
I got completely addicted to this book towards the end and picked it up every chance I got (which was hard because it is heavy). It was so intriguing and interesting and really a joy to read. It gets very creepy and sinister towards the end as well and I am not ashamed to admit that I did got a few jitters and a little the-call-is-coming-from-inside-the-house. I love the Raven King (a legendary figure from the magical times in the past who haunts the novel and whom Jonathan Strange is searching for and inspired by) There is also a very strange gentleman fairy, known only as  'the gentleman with thistle-down hair' who causes havoc unbeknownst to many characters in the novel and who is an outrageously brilliant, if not completely hateful, character. He is conjured by Mr Norrell right at the beginning of the book and his story, and the story of his dealings with members of Strange's household, becomes a parallel narrative to the main story. I loved it and I think it was the element which provided the most suspense as he was such an unpredictable and evil character that you never knew what he might do next.
I don't know who I would recommend this book too...I think many people would find it tedious and slow and uneventful because it is a sprawling book that is written in a matter-of-fact style as opposed to sensational and fantastical but, for me, it was worth the 800 pages.
Other Thoughts
This Book has Inspired me to Read: Even though it wasn't written in the nineteenth century, this book makes me want to read Victorian literature. I have a copy of 'The Old Curiosity Shop' on my Kindle that I may have to unearth! I also bought 'The Ladies of Grace Adieu' by Susanna Clarke which is a collection of short stories featuring some of the same characters as 'Jonathan Strange...' I have yet to read it but I may read one or two before bed!
Quotes I Liked From the Book:
'Time and I have quarrelled. All hours are midnight now. I had a clock and a watch, but I destroyed them both. I could not bear the way they mocked me.' 
 '

For, though the room was silent, the silence of half a hundred cats is a peculiar thing, like fifty individual silences all piled one on top of another.'
'

The land is all too shallow

It is painted on the sky 

And trembles like the wind-shook rain 

When the Raven King passed by'
Three Words to Describe this Novel:
Sprawling, Magical. SoVeryEnglish.