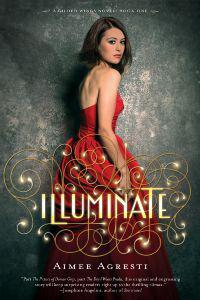 Title: IlluminateAuthor: Aimee AgrestEdition: hardcoverSeries: Gilded Wings #1Released Date: March 6th, 2012Publisher: Houghton Mifflin Harcourt
Goodreads

/

Amazon Haven Terra is a brainy, shy high school outcast. But everything begins to change when she turns sixteen. Along with her best friend Dante and their quiet and brilliant classmate Lance, she is awarded a prestigious internship in the big city— Chicago—and is sent to live and work at a swanky and stylish hotel under the watchful eyes of a group of gorgeous and shockingly young-looking strangers: powerful and alluring hotel owner Aurelia Brown; her second-in-command, the dashing Lucian Grove; and their stunning but aloof staff of glamazons called The Outfit.
As Haven begins falling for Lucian, she discovers that these beautiful people are not quite what they seem. With the help of a mysterious book, she uncovers a network of secret passageways from the hotel's jazz-age past that leads her to the heart of the evil agenda of Aurelia and company: they're in the business of buying souls. Will they succeed in wooing Haven to join them in their recruitment efforts, or will she be able to thwart this devilish set's plans to take the souls of her classmates on prom night at the hotel?
Illuminate is an exciting saga of a teen's first taste of independence, her experience in the lap of luxury, and her discovery she may possess strength greater than she ever knew.
Growing up, Haven's idea of fun was researching colleges and studying. Sometimes that included her best friend, Dante. A change of a lifetime appears before Haven, and she heads off to an internship at Lexington Hotel along with Dante and their classmate Lance.
Haven is the type of character that I love to read about, but there isn't enough about in young adult literature. She's not overly bad-ass, but relies more on her intelligence than her strength. She's super smart, and prefers to be independent than having a big group around her. To be honest, she's kind of awkward in social situations! When her and Lance team up, they become quite the duo, and my favorite chapters always revolved around these two! Their relationship is pretty darn cute, if I say so myself!
Aurelia and Lucian are weird. I didn't really like them, and I couldn't find that the pull between Haven and Lucian was very realistic. Well, maybe it was kind of realistic - I mean, he's fricken gorgeous. I guess I just didn't WANT it to be realistic. He just seemed too charming to me. In all honesty, he reminded me of Adrian from Vampire Academy, but 100x worse in the player department. Meanwhile, Aurelia had that aura that screamed power, and I respected her for that. I'm not saying I liked her, but I did respect how she was always confident and held herself highly. I kind of wish I had the ability to have a high self-esteem! I was always suspicious of Aurelia, but it was nearly impossible not to! She was just, creepy I guess.
There was a lot of good versus evil in this book. Good, being Haven, Lance, and some others; bad being The Outfit, the group that Lucian and Aurelia took part in. This made the book extremely interesting, and I actually found myself swaying between the good and the bad. Like Haven, I found the 'bad' side very intriguing, but not enough to want to be like them!
Illuminate was an awesome read, and definitely included the type of story and characters that I love best! Stunning novel overall, and I truly cannot wait for the sequel, Infatuate! I'm curious to see what will happen!