Warner Bros has just sent us a Happy Feet packet as they have just released Happy Feet 2 . We love penguins here at Smiling like Sunshine HQs so was very happy to receive a gorgeous box including Happy Feet, Happy Feet 2 and The March of the Penguins and some goodies for the kids.
We now watch a family movie every Sunday with Defne while Derin is napping. Happy Feet 2 is a visually captivating film. The animations are great and the music is very catchy for little ones.


Defne thoroughly enjoyed the film, especially the dancing scenes.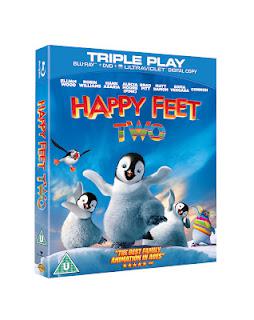 The film centres around young Erik, the son of Mumble (the star of Happy Feet). Unlike his father, the king of tap, Erik is r
eluctant to dance and cannot find the confidence to dance in front of others. He runs away and encounters the mighty Sven-a penguin who can fly. Erik now has a new role model: A flying penguin instead of a dancing one! 
Mumble heads off to rescue his son from the misleading influence of Sven however  
an ice block crashes into their Antarctic home, blocking the penguins from the sea. 
Erik learns of his father's "guts and grit" as Mumble brings together the penguin nations and all manner of fabulous creatures to put things right. The voices behind the characters are amazing, too: Robin Williams at his best, Elijah Wood, Brad Pitt,Matt Damon,Pink and many more!
You can watch the official trailer here:
Disclaimer:We received the mentioned DVDs for review purposes. All opinion my own.