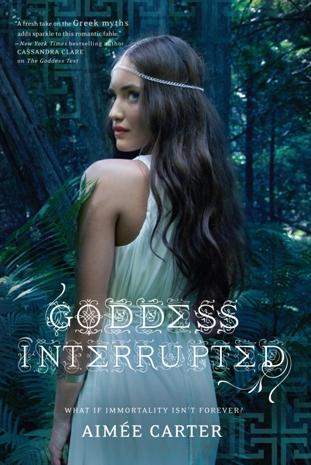 Title: Goddess Interrupted
Author: Aimee Carter
Edition: ebook
Series: Goddess Test #2
Released Date: March 27th, 2012
Publisher: HarlequinTeen
Goodreads

/

Amazon 
Kate Winters has won immortality. But if she wants a life with Henry in the Underworld, she'll have to fight for it.
Becoming immortal wasn't supposed to be the easy part. Though Kate is about to be crowned Queen of the Underworld, she's as isolated as ever. And despite her growing love for Henry, ruler of the Underworld, he's becoming ever more distant and secretive. Then, in the midst of Kate's coronation, Henry is abducted by the only being powerful enough to kill him: the King of the Titans. As the other gods prepare for a war that could end them all, it is up to Kate to save Henry from the depths of Tartarus. But in order to navigate the endless caverns of the Underworld, Kate must enlist the help of the one person whom she would really rather not meet. Henry's first wife, Persephone.
Kate Winters survived the test - the one that decided if she was fit or not for the throne. She passed, and now she's on her way to become Queen of the Underworld. Kate's induction ceremony is in the works, but they're attacked by none other than Calliope, the jealous goddess who seeks vengeance for Henry (aka Hades) not returning her love. With her friends and family captures, Kate has to find people in the Underworld she never imagined herself willingly looking for. 
I really liked The Goddess Test, mostly because I love mythology and all the characters were great! With that said, I was definitely excited when I saw the Goddess Interrupted on NetGalley and I had to download it and read it! I was pleasantly surprised by this one!
Aimee Carter had a great way of showing how the characters evolved. Kate was a very strong character in this one - she seemed to fit into her role of Queen a bit more. In The Goddess Test, she was a bit more meek in the beginning and seemed more innocent, but now Kate has stories and secrets. She's got more substance compared to the first novel. Also, Henry, who represents Hades, seemed to become more distant as he noticed the danger he was always putting Kate in. I really loved how Henry evolved in this one and told Kate how much he loves her. 
I really liked the whole idea of the novel being the journey to finding her friends and family when they were captured by Calliope! There were lots of twists and turns and I'm sure the ending will keep you in awe. It's a major cliffhanger that you won't forget!
In Goddess Interrupted, there were some betrayals, new friendships, and more romance and it was a great addition to The Goddess Test! I can't wait to find out what happens to Kate, Henry and the rest of the immortal gods and goddesses in the Goddess Legacy!