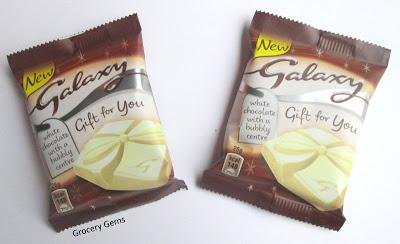 Following on from my recent successful tasting of the new Galaxy Honeycomb Crisp chocolate bar, I decided to try one of their Christmas offerings - the Galaxy a Gfit for You White Chocolate with a Bubbly Centre. Of course the fact that it's white chocolate helped to make that decision a lot easier :)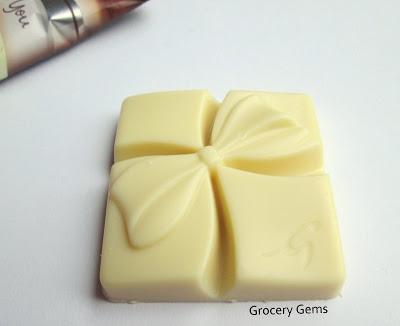 I love the appearance of the this chocolate with it's pretty parcel shape and cute bow. The glutton in me also appreciated the fact that, although these might look quite small, inside it's actually a decent chunk of white chocolate that can be easily portioned into four well sized pieces.


The white chocolate is extremely creamy and smooth, perfectly satisfying as a sweet treat. The aerated white chocolate center gives it a light texture and extra melt in the mouth consistency. The whole thing is of course quite simple in terms of taste and not exactly innovative. However, this product is all about the charming present shape and I prefer the use of white chocolate for a Christmas product, it just has a more wintery feel!
Grocery Gems Verdict: Galaxy Gift For You White Chocolate
RATING: 8.5 out of 10
Buy them again?: Yes.


Nutrition (per 26g)

: 148

 

calories

.




Purchased

:

 

Sainsburys.


Price: 2 for 

£1.00p.