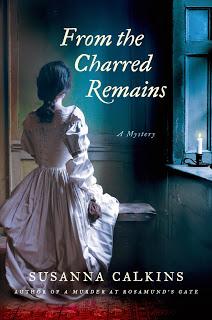 Description (from cover):
'It's 1666 and the Great Fire has just decimated an already plague-ridden London. Lady's maid Lucy Campion, along with pretty much everyone else left standing, is doing her part to help the city clean up and recover. But their efforts come to a standstill when a couple of local boys stumble across a dead body that should have been burned up in the fire but miraculously remained intact--the body of a man who died not from the plague or the fire, but from the knife plunged into his chest.
Searching for a purpose now that there's no lady in the magistrate's household for her to wait on, Lucy has apprenticed herself to a printmaker. But she can't help but use her free time to help the local constable, and she quickly finds herself embroiled in the murder investigation. It will take all of her wits and charm, not to mention a strong stomach and a will of steel, if Lucy hopes to make it through alive herself. 
Susanna Calkins delivers another atmospheric historical mystery that will enchant readers with its feisty heroine and richly detailed depiction of life in Restoration England.'
My thoughts:
After reading A Murder at Rosamund's Gate, I had a feeling that I would find myself reading another book by this author. I really enjoyed that book and the historical accuracy and depiction that the author brought to the written page and I knew that I had found a new author to love. The author recently released the third book in this series, The Masque of a Murderer and I knew I had some catching up to do as I never read a series out of order. From the moment that I opened this book, I was in love with the story. The author has a fantastic way of weaving history and fiction to make a book that is delightful to read. I could not put this one down to save my life. I was engrossed with the characters, the mystery and the rich historical detail that the author put into this book. 
Lucy has remained in the magistrate's household even though there is really a place for her anymore. She hates being bored and having nothing to do, so she begins helping the city rebuild itself after the devastation of the Great Fire of 1666. While she is helping with that, two young boys discover a body in a barrel. And it appears that it wasn't the fire or the plague that caused this person's early demise. Lucy, of course, is intrigued with the mystery and sets out to discover who this person was and who wanted him dead all while beginning an apprenticeship with a local printer. 
The author introduces the reader to some new characters that I am sure will play a part in the continuation of the series. I thought that this book was well developed and rich in detail. I know that this author is a new and emerging force in the historical mystery genre and I cannot wait to see where the author goes next. I definitely think that this author has the potential to do some big things in this genre and I can't wait to read whatever she creates next. A fantastic novel in a phenomenal series that will have me coming back for more I am positive.
Overall Rating: 5+
Title:  From the Charred Remains
Author:  Susanna Calkins
Series:  Lucy Campion Mystery #2
Publisher:  Minotaur Books
Publication Date:  March 17, 2015
Pages:  352
Genre:  Historical Mystery
Get It:  Amazon; Barnes & Noble
Disclaimer: This book was selected from the library by myself and I reviewed this book without compensation of any kind. All thoughts and opinions are solely mine.