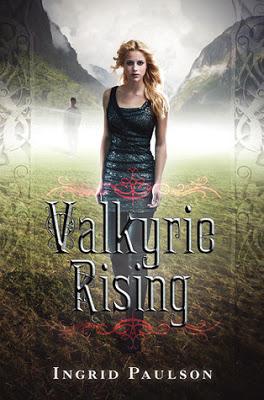 A Fun Read with a Twist on Norse Mythology
4.5 Stars. This book took a little while to suck me in, but when it did I discovered a really intriguing storyline and wonderful characters. Paulson takes a few chapters to set up this story, but once Ellie gets to Norway things start to pick up and they continue to get more interesting once Graham and his best friend Tuck arrive.
Ellie was a likeable character. She was sweet, but toughens up and learns to stand up for herself as the book goes on. I loved the dynamic of Ellie and the boys around her. Other than her grandmother and the Valkyries all the other main characters are guys. Seeing Graham, Tucker and Kjell all being territorial over her was entertaining. I also liked Tucker a lot. He pushed Ellie's buttons and could be a bit of a bad influence, but he was also a loyal friend and on the inside a really sweet guy.
Tucker's jealousy was cute, and I liked his relationship with Ellie. She's his best friend's sister and they've spent a lot of time together growing up. Now that they're older they realize they have feelings for one another, but to act on them would mean changing and potentially destroying the way things have been since they were kids.
Ellie has always lived in her big brother's shadow. His overprotective ways have labeled her as "Graham's little sister" and all she wants is to be able to make her own decisions. I think what this book is really about is Ellie growing up and becoming her own person. When she visits her grandmother, who lives in Norway, we see her wanting to do her own thing, but she has a hard time talking to her brother about this. Graham tends to just assume what she wants and isn't a very good listener.
After Ellie and Graham get in a fight the plot really picks up, and Ellie is thrown into a dangerous situation that she has to deal with without the help or guidance of her brother or grandmother. There's a lot more to Ellie than just being Graham's little sister and she discovers some of these things and has to learn how to deal with them in a short period of time.
I liked the twist on Norse mythology in this book. There were some familiar faces, like Loki and Odin, but the storyline felt completely new to me. One thing that I was disappointed in with this book was that we never got to see Valhalla. We hear a little bit about it, but the characters never actually make it there.
Also I felt like the fight scene at the end was too easy. There were families fighting against their sons, it just felt like it should have been more emotional. But, instead it ended peacefully and without any casualties and then the whole town's memories were wiped as if it never happened. I would have liked that scene to have been a little more meaningful.
I did like the little bit of drama at the end with wondering if Tuck was under the same spell as Kjell, and the scene with Tuck and Ellie on the roof made me smile.
Overall this book had nice imagery, an interesting plot and well developed characters. It was descriptive, but in a way that was fun and whimsical. It was a really fun read.