Are you participating in Indie Book Goal 2019?
Over 50 books were submitted to the Indie Book List in 2018! See last year's list. I personally read X of them and met my goal of reading at least 10 Indie Books for the year.
So, this year I want to continue to support Indie authors with the Indie Book Goal 2019! Once again my New Years Resolution will be to READ MORE INDIE BOOKS and I hope you will all join me in doing so.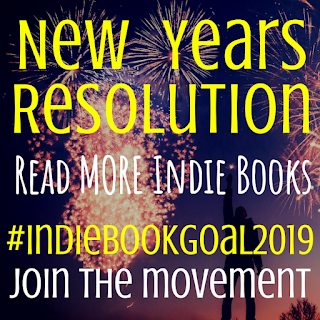 How to Participate:
There are two ways to participate in the #IndieBookGoal2019 challenge. You can do one, the other, or both.
1. Pledge to read a certain number of Indie or Self-published books in 2019. Then read that many books and write reviews. You can find Indie and Self-published titles by looking at the Indie Book List, or on your own. Pretty simple, right? 2. Submit an Indie or Self-published book to the list to recommend to other readers. Please see below for rules.
The 2019 List Rules:
The rules for submitting books to the list have changed a little since last year, so please read! 

1.Books must have been published in 2018 or 2019 
2.Books must be self-published or published by an independent publisher
3
.Books
from last year's list CANNOT go on this year's list
*NEW*
3.You CAN submit your own book if you are the author
4.Books submitted must have been professionally edited 
5
.Books
MUST be submitted with a link to your review either for the book you are submitting or to a book from the previous year's list 
*NEW*
Why Rule #5?
There were A LOT of books submitted by the author last year (which is still allowed). But, the purpose of this list is not only for indie authors to get more reviews. It is for book lovers to have an easier time finding great indie books to read.
What this rule will do is only allow authors to submit their own books if they are an active participant in the Indie Book Goal Challenge, meaning they have read and reviewed a book from the previous year's list. (Note: Reviews do not have to have been posted in 2018. So, if in 2019 you are just now posting a review to a book you read last year, that counts.)
If you are not an author and just a reader, then this rule doesn't affect you much at all. You just include a link to your book review with your submission. Book reviews can be posted on Amazon, Goodreads, or your personal blog.
Also, this rule is a BONUS FOR BOOK BLOGGERS as I will then post the links to those reviews on the list page.
This Year's Categories:
In addition to these rules, I am making another change. Last year ALL genres of books were accepted. I am limiting that some. Most notably, I'm not posting anything non-fiction or children's books.
Erotica is also not accepted.
Again, in order to participate in the Indie Book Goal Challenge, you can choose books from the list OR ANYWHERE you want. You don't have to follow my list rules to meet your goal. Heck, if you don't like my list, make your own (and share it with me!). But, I want this list to be tailored to my readers and viewers.
This Year's Categories are:
-
Supernatural
(Includes: Paranormal, Magical Realism & Urban Fantasy) - Set in our world-
Fantasy
(Includes: High Fantasy, Dark Fantasy & Epic Fantasy) - Set in Fantasy Realm-
Science Fiction 
-
Dystopian
-
Contemporary 
-
Mystery 
(Includes: Crime, Thriller, Suspense)-
Historical 
This Year Books will also be marked with the following tags:
-Romance -- 💘-Clean Read -- 🍦-Spicy scenes/language 🔥
-LGBTQ --🌈
-Young Adult --🌻
-Dark Themes --🖤
Use the 
#IndieBookGoal2019
 hashtag to share about the indie books you're reading, and feel free to steal the badges below to share with your friends and followers how many indies you plan to read.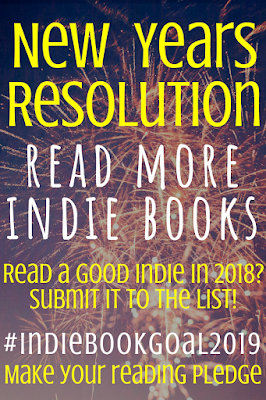 If you're going to participate, please share links in the comments below!
SUBMIT A BOOK TO THE LIST
or scroll to the bottom of this page.
Free images for participants: