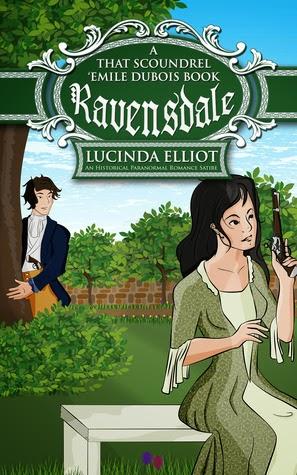 Humorous and Exciting. 
 
5 Stars. I picked this one up after having read "That Scoundrel Emile Dubois" as the two books are somewhat connected. There weren't any vampires in this book, but I still enjoyed the writing style and the few mentioning's of Emile. I don't tend to read historical romances often and almost never spoofs, but I was in the mood for something different, and this turned out to be a very entertaining read. I liked how Elliot poked fun at the clichés of historical romances. The chapter titles made me laugh. They were these little parody's which gave just enough lightness to the story without turning it into a joke.
When Isabella and Ravensdale start talking is really when this story picks up. They make a few unexpected agreements that create a fun balance between the lovestruck Ravensdale and practical, independent Isabella.
I loved Isabella. She was bold, smart, and had a good heart. I loved that she broke away from the stereotypical female image of the time. I do wish I had gotten to know a little more about her previous suitor. He's mentioned a few times, but only really in passing. However, this was more of a curiosity as getting any more information on him wouldn't really have done anything for the plot.
Ravensdale was a complex character. He'd been hurt and misjudged. He started out a little reserved, but falls for Isabella so fast. Instead of a young girl fawning over some guy you have Ravensdale who's completely enamored with Isabella who, at times, couldn't care less. I also liked that Ravensdale's infatuation with Isabella is handled realistically. His love isn't immediately returned, and you see how having this unrequited love does start to affect him. Isabella's constant dismissal of his feelings changes him.
I also liked that Isabella liked Ravensdale better when he was being real instead of mushy. It showed how he was winning her over, not just that his words were winning her over. When she does fall for him it feels natural, even though he was a lovesick-fool.
When it comes to the plot there is a nice mystery woven through the story. As you're reading about Ravensdale and Isabella you're also being taken back in time to learn what brought Ravensdale to become Mr. Fox; how the once to-be earl became a highwayman. There's a bit of a murder mystery hidden in the plot and Elliot keeps you guessing until the very end.
For someone who doesn't read much historical romance, I was glad that while the language felt true to the time period it was written in a way that was easy to understand. You do kind of have to pay attention to the dates. Elliot moves around a little in time, but she does make it easy to know when things are happening if you're paying attention. It took me a little while to get used to the flashbacks, but once I did they flowed well with the story. Some of the dream sequences felt unnecessary, but they were short and entertaining.
Overall this was a fun read, and I'd recommend it to anyone who enjoys historical romance, or who are looking for a break from the YA genre.