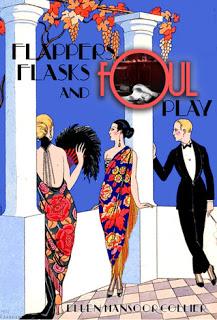 Description (from cover):
''Boardwalk Empire' meets 'The Great Gatsby' in this soft-boiled 'Jazz Age' mystery, inspired by actual events. Prohibition is in full swing in 1920s Galveston, Texas: the 'Sin City of the Southwest.' Jasmine Cross, a young society reporter, feels caught between two clashing cultures: the seedy speakeasy underworld and the snooty social circles she covers in the Galveston Gazette.
During a night out with her best friend, Jazz witnesses a bar fight at the Oasis--a speakeasy secretly owned by her black-sheep half-brother, Sammy Cook. But when a big-shot banker with a hidden past collapses there and later dies, she suspects foul play. Was it an accident or murder?
Soon new Prohibition Agent James Burton raids the Oasis, threatening to shut it down if Sammy doesn't talk. Suspicious, he pursues Jazz, but she refuses to rat on Sammy. As turf wars escalate between two real-life rival gangs, Sammy is accused of murder. To find the killer, Jazz must rick her life and career, exposing the dark side of Galveston's glittering society.'
My thoughts:
As a history lover, I absolutely adore the 1920's. I love flappers and how they got around pesky Prohibition. I have never really thought that Galveston, Texas would really be a key player in the 1920's, but apparently all the drama was there. There were gangs fighting over territory, rum-runners supplying booze and a seedy element that rules the city. Who knew? I thought New York City was were everything went down, but apparently Galveston had quite the reputation. Nothing like murder set in the era of the 1920's to make this girl happy. 
Jasmine Cross is not your average flapper. Sure, she loves to have a good time and enjoy booze like everyone else, but her career is very important to her. She aspires to move up from writing the society column at the Galveston Gazette and write important stories that feature crime and murder. She wishes to travel the world and achieve recognition like Nellie Bly. She goes out on the town one night to her half-brother's speakeasy with her best friend. While they are there, a bar brawl breaks out and a customer collapses and turns up dead later. Jazz seems to think that something is fishy about this situation and decides to take matters into her own hands. With the help of her half-brother, Sammy, and a Federal Prohibition agent, James Burton, Jazz must figure out what is going on before someone she cares about gets hurt. Using her connections she sets off to find the murderer and unravels several interesting clues along the way and faces danger at every turn.
This is the debut novel of the new Jazz Age Mystery series and what a sparking gem this book is. I really enjoyed it. The first few chapters were a little slow going, but soon I was sucked right into the mystery and it captivated me. I loved Jazz's flapper-like attitude and her down-to-earth personality. She is a force to be reckoned with and no one, even gangsters, society madams or federal agents can get her down. She is brave in the face of danger and stands up for what she believes in. I highly recommend this book to lovers of historical mysteries who like something a little different. I promise this one will wow you and have you begging for more. I know I cannot wait to read the second book in this series, Bathing Beauties, Booze and Bullets to see what Jazz and her friends are up to now. You can learn more about this series and the amazing author, Ellen Mansoor Collier over at www.flapperfinds.com. Also make sure that you stop by that site to read excerpts of both Flappers, Flasks and Foul Play and Bathing Beauties, Booze and Bullets. Hope that my historical mystery lovers check out this book, I do not think you will be disappointed.
Overall Rating: 4.5
Title:  Flappers, Flasks and Foul Play
Author:  Ellen Mansoor Collier
Series:  Jazz Age Mystery #1
Publisher:  Amazon Digital Services, Inc.
Publication Date:  July 28, 2012
Pages:  297
Genre:  Historical Mystery
Get It:  Amazon; Barnes & Noble; Smashwords
Disclaimer: This book was given to me by the author in exchange for my honest review. I reviewed this book without compensation of any kind. All thoughts and opinions are solely mine.