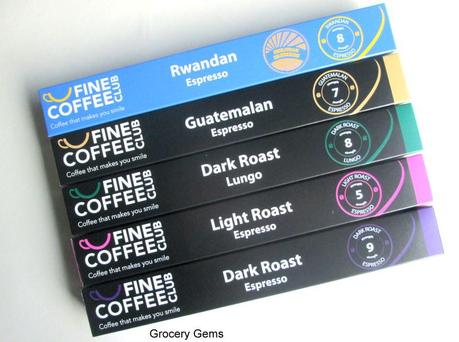 I was recently contacted to review the Fine Coffee Club range of Nespresso compatible pods. This British company offers pods which are delivered direct to your door for at least 20% cheaper than the branded version. I was sent five varieties to try; Rwandan Espresso, Guatemalan Espresso, Dark Roast Lungo, Light Roast Espresso, and Dark Roast Espresso. It's a great selection and there are even more varieties to choose from on their website here: www.finecoffeeclub.co.uk.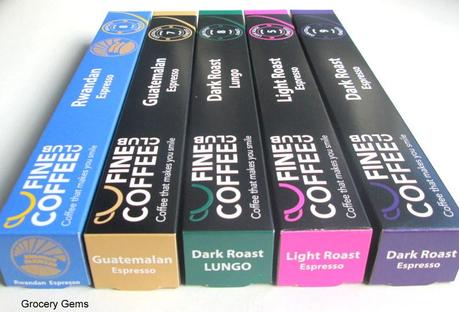 Firstly I have to say that I love the packaging! As you will see below these pods are very bright (even including a hot pink) and offer a colourful alternative to the Nespresso range, which tends to stick to a very classic color palate. Unlike other Nespresso compatible pods I've tried, the Fine Coffee Club pods are packaged just like the branded originals in a long sleeve. It's a real plus against other Nespresso compatible pods (which are usually thickly foil wrapped pods), as these can be stored alongside the branded version in a capsule display. I have an upright display on my kitchen worktop and these fit perfectly on it. 
Of course whether or not I like the appearance and packaging of the Fine Coffee Club pods is nothing in comparison to the importance of the actual taste of the coffee. I've been trying these coffees all week instead of my usual Nespresso and I was generally impressed by the quality of the coffee here. Whilst I don't think any coffee will ever compare to the outstanding taste of Nespresso itself, the Fine Coffee Club pods are without a doubt my favorite of the newer brands I've tried recently and are way ahead of those in terms of flavor.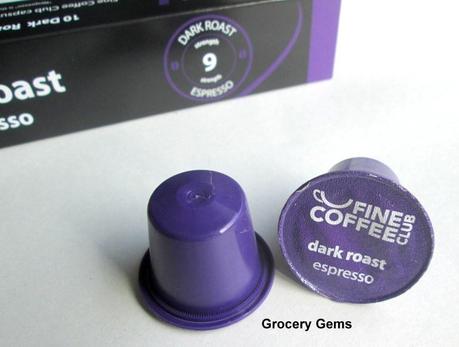 Dark Roast Espresso - Strength 9: This was the first coffee I tried from the Fine Coffee Club range and I was immediately impressed by the crema layer which formed on top, easily the best I've seen in any of the coffee brands apart from Nespresso itself. The aroma was excellent and the coffee flavor itself surprised me with it's smooth and intense flavor. I would happily drink this as an alternative to Nespresso.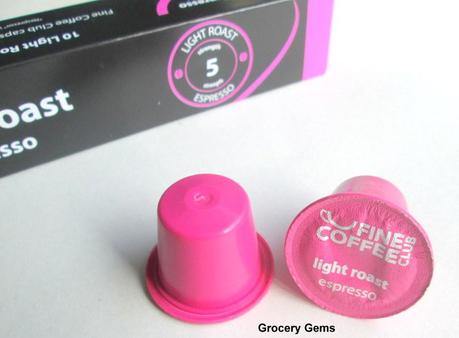 Light Roast Espresso - Strength 5: I love how bright pink the capsules are! It's like Barbie meets Nespresso. Despite the strong colour, these were overall the weakest in terms of flavour, not altogether surprising since it also has the weakest strength rating. This Light Roast Espresso is described as a mild, easy to drink coffee and I would absolutely agree with that. The delicate flavor makes this a good coffee to keep for when any friends or family who don't like strong intense coffees come to visit.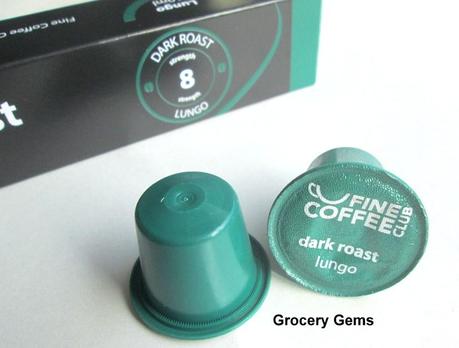 Dark Roast Lungo - Strength 8: This is ideal for larger Americano style coffees with a splash of milk. The coffee here is full bodied with a good depth of flavor. It's slightly lighter in intensity than the Dark Roast Espresso but I still enjoyed this one. It's especially good for a mid morning coffee break, not too intense but with an excellent flavor.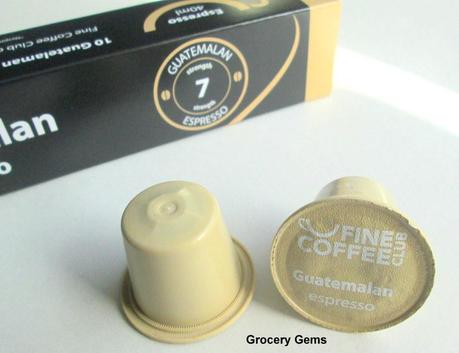 Guatemalan Espresso - Strength 7: This is described as a medium body, darkly roasted Arabica with floral aromas and dark fruit flavours. I was expecting it to be quite weak, possibly because of the milky color of the pods, but this coffee was absolutely delicious. It has complex multi-layered notes that create a distinctive and very enjoyable flavor.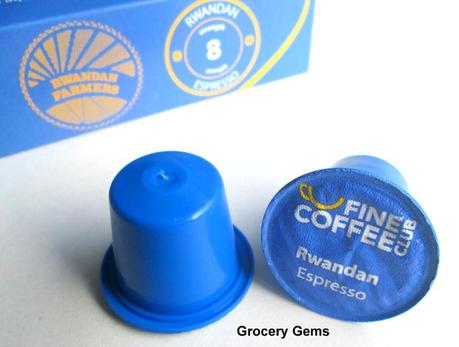 Rwandan Espresso - Strength 8: Fine Coffee Club give 20% of the price of their Rwanda Espresso to the Rwandan Farmers Coffee Company, a project helping to improve the incomes of local coffee farmers and their families. It's a wonderful addition to the Fine Coffee Club range and one that I would certainly purchase in the future. This 100% single origin Rwandan coffee has a full bodied flavor and sweet notes that made it another of my favourites from this range.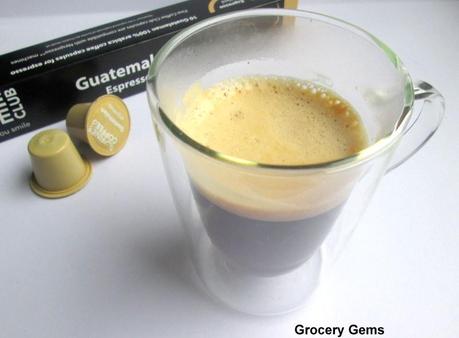 A quick note about the pods themselves. These Fine Coffee Club pods are plastic with a foil seal. I didn't have any issues using these with my Nespresso machine. Whilst the original Nespresso aluminum capsules obviously give an unrivalled freshness, I found these Fine Coffee Club pods to be superior to any of the other Nespresso compatible brands I've tried thus far. And although I do not see these as a replacement for Nespresso, I would certainly purchase more from this range in the future whenever I fancied a change. I would especially recommend the Dark Roast Espresso, Guatemalan Espresso and Rwandan Espresso.
Grocery Gems Verdict: Fine Coffee Club

RATING: 8 out of 10.Buy them again?: Yes.


Purchased

:

 Online www.finecoffeeclub.co.uk


Price

: From £2.30p per box of 10 pods.

Product sent for an honest review.