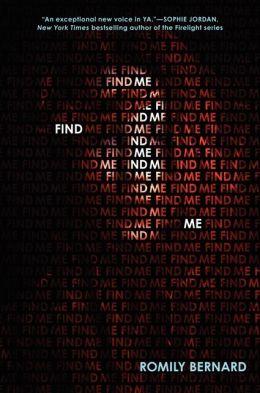 Genre: YA Contemporary
Published: September 24, 2013 by Harper Collins
Length: 320 pages
Source: Harper Collins (ARC)
"When teen hacker and foster child Wick Tate finds a dead classmate's diary on her front step, with a note reading "Find me," she sets off on a perverse game of hide-and-seek to catch the killer. But things get even more personal as Wick's deadbeat dad returns and the killer points to Wick's sister Lily as the next target.
With the help of oh-so-cute hacker-boy-next-door Griff, can Wick find her tormenter and save her sister?"

Find Me by Romily Bernard is such a wonderful and thrilling read! I was hooked on since the first page till the very last. I read this book without knowing anything about the book except that the female protagonist, Wick, is computer hacker. At the beginning, I thought the story was only going to be about Wick and her sister (Lily) trying to escape from their abusive father, but there is a plot twist! The writing style is really good. I could picture the scenes very easily and all of the characters are different from each other so it was easy to remember who was who.
Wick Tate is such a strong and cool protagonist. She is very responsible and she fulfills the her parents' duties for her sister Lily. She is such a relatable character, and I could see myself sometimes in her since I am also a sister. She loves Lily very much, and she does her best to protect her from their father and the killer. I also like Lauren's character, Wick's best friend. Though she did not support Wick's occupation at first, she eventually supports her and keeps it a secret WHICH IS WHAT BEST FRIENDS SHOULD DO! not backstab…
There is also a little bit of romance in the book which I had a love-hate relationship with. There is this one scene in the book where Griff, Wick's love interest, does something to Wick and I was like "wth? I wouldn't have a relationship with that guy. That was rude". I found their relationship cute at times though. I'm just glad it did not take over the plot.
Overall this book is a must read! It has suspense, mystery, and action! I highly recommend this to those who love YA mystery books. I think this book is a perfect read during the winter season or a gloomy day just because it adds more spook when you're reading it.