Sponsored Review 
Autumn season tends to herald the most beautiful colors for makeup, especially since warm tones pop do beautifully on Asian yellow-based skintone like mine. And I pleased to have received this gorgeous set of organic mineral makeup, courtesy of a new up-and-coming local brand Reflections Organics!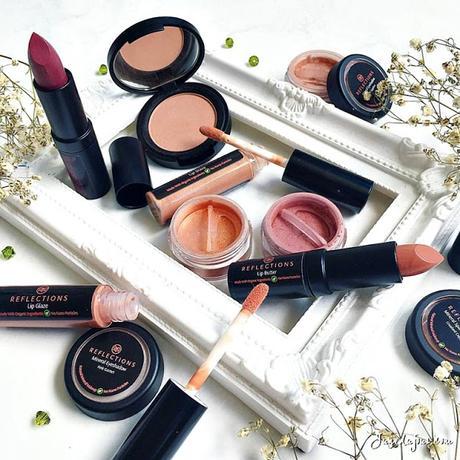 Reflections Organic aims to bring high quality organic products (up to 90% organic content, zero nano particles, zero parabens, vegan, cruelty-free, made in the USA) to a wider range of users, at affordable prices. This locally founded beauty brand's philosophy also b
elieves in adopting an organic lifestyle does not have to cost a premium, and every user should feel good about using the product, while being environmentally-conscious too!
Every brand usually have a hero product, and I have no doubt that the
Reflections Organics Mineral and Mineral Sparkle eye shadows
must be it! The colors build on very beautifully to give a soft wash of color, and comes in 12 matte shades and 6 glittery shades. I was initially abit skeptical as I'm not used to loose powder forms but I was blown away by the intensive pigmentation with just a small amount used. Especially the Sparkle versions; the luminosity level is unprecedented!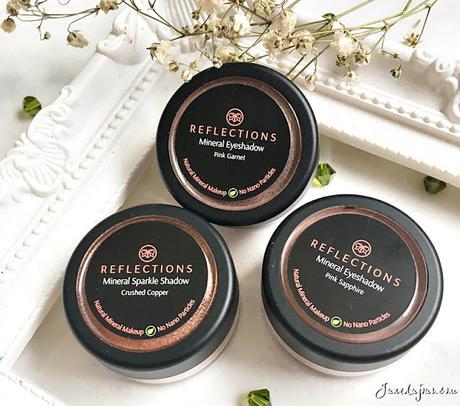 All the
Reflections Organics Loose Mineral Eyeshadow powders
come with a small jar with a turning sifter to reveal more products. I found this pretty nifty as it adds an extra layer of spillage security if you should bring this on the go.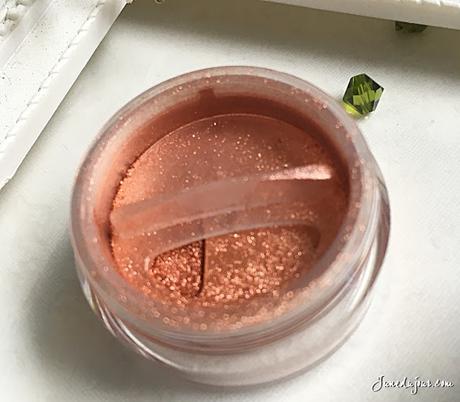 Crushed Copper gives me life!
Crushed copper
: Hands down the most stunning of the lot. Exactly like its name, its a great accent shade of a orangey rust-gold. 
Pink Garnet
: A frostier, pale pink shade. I love using this as a base crease color to brighten up the eyes or even as a highlighter for the cheeks. 
Pink Sapphire: 
The darker of 2 pink shades, it has a deep mauve pink that is versatile on both cool and warm skintones.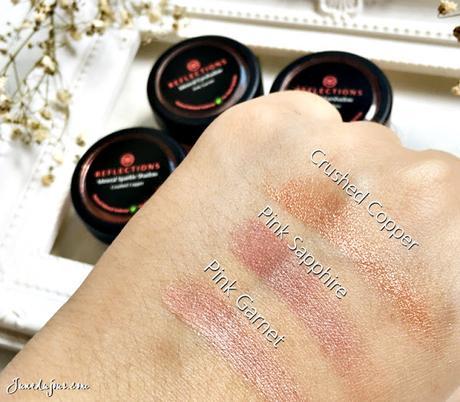 Being a big blush person, I could not miss the
Reflections Organics Mineral Pressed Blush
. The size of the compact fits perfectly in the palm of my hand, and running a finger to swatch it, the powder feel butter and smoothly glides. I have the shade Waterlily, which is a nudey pink shade which gives just a tinge of natural flush.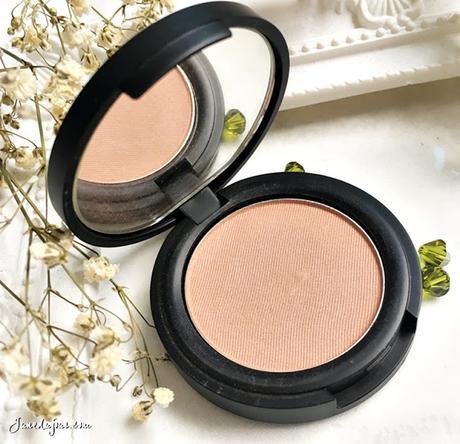 Here is how it looks when swatched; it comes off as abit of a cool dusty pink.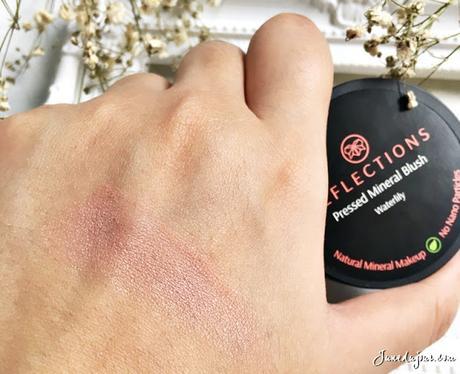 As always with my review, I need to crown my star favorites...and the
Reflections Organics Lip Butters
are it! Creamy and super pigmented, these babies glide on like a dream without any tugging or streaking. In one application, I was able to see an opaque pigmented shade. Its very forgiving for drier lips, and fills in the lip crevices to give a fuller appearance, and kept my lips hydrated for almost the whole day. Staying power wise, like most creamy formulations it does transfer abit when eating but otherwise it held up pretty well for me up to 4 hours before I needed to touch up.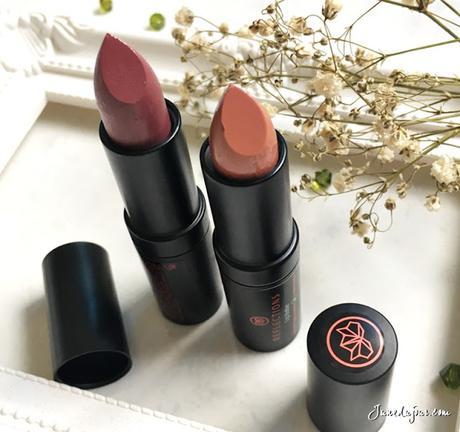 Here's the swatch on hand:
Sweet Plum:
A warm plum mauve purple shade. Comes off abit darker on my naturally red lips.
Toffee Butter:
A peachy nude shade that makes for a very nice staple for light makeup or smokey looks.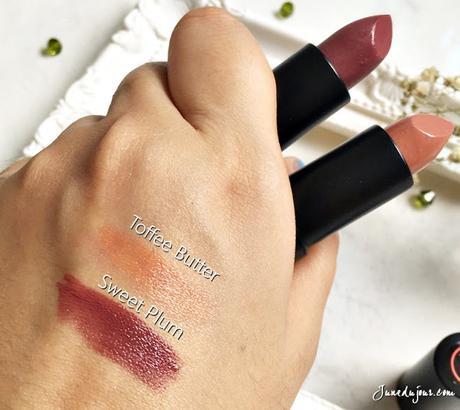 If lipsticks aren't your thing, then do try the
Reflections Organics Lip Glaze
for some mega-watt puckers! Available in 8 shades where you can choose between shimmery or non-shimmery finish. It's as hydrating as the Palladio ones I've reviewed recently; without being over sticky-tacky nor pulls the mouth when you pucker. Kudos that unlike most shimmery lip glosses, the glitter is very fine and does not feel gritty. I loveeeee the warm vanilla-like scent!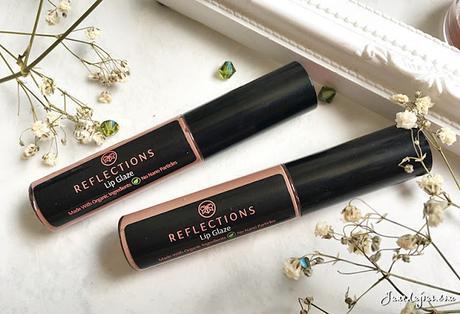 Here are the shades swatched on hand:

Cappuccino
: Love this! A shimmery pale orange-nude shade that can be applied as a stand alone satin lip, or layered on top my Toffee Butter lip butter to add a touch of glitter finish. 
Peanut Butter:
A sheer reddish-pink shade, very glossy.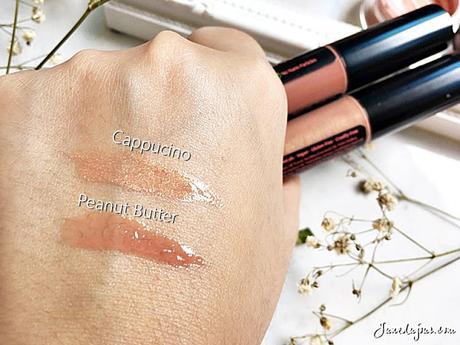 With gorgeous new beauty hauls like this, I just HAD to create a Fall makeup look for the season!
1) Start by applying Pink Garnet as an all over crease base shade.2) Next, using a blending brush, dab the darker Pink Sapphire from the middle of lids and blend outwards gently to create a shadow. I've also added 3) Lightly swirl with the Waterlily blush and blend the shade onto the apple of the cheeks in circular motions, towards the hair line.  4) I topped it off with with a coat of Sweet Plum Lip Butter on the lips.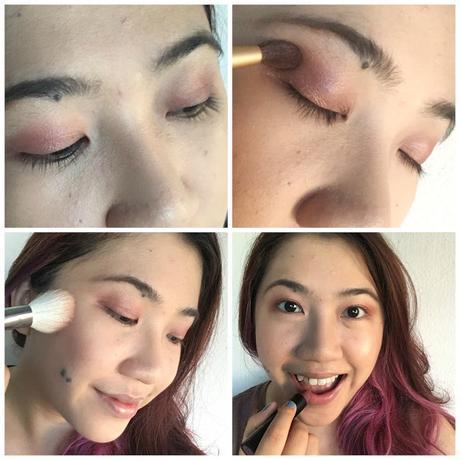 And this is the understated but very wearable look that's not just office-friendly but you can intensify the look for after work drinks and beyond.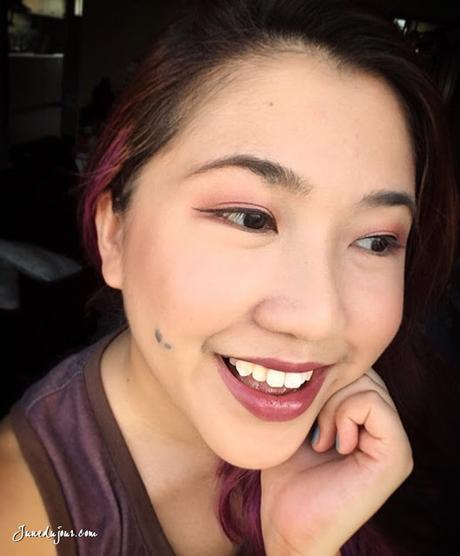 Thank you Reflections Organics for sending this my way! For makeup that not just boasts great color and pigmentation, look no further than Reflections Organics. I love how premium quality organic makeup not just beautiful, but provide a source of nourishment for the skin. Do follow them on their social media and mailing list to stay updated on they latest workshops, roadshows and deals!
All items reviewed are currently available on their website, and the links are included below:
Reflections Organics | Facebook | Instagram