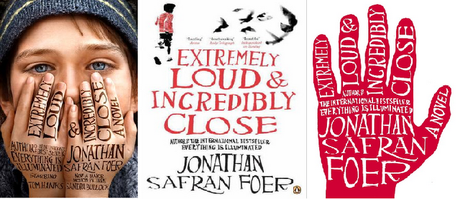 EXTREMELY LOUD AND INCREDIBLY CLOSE 
BY JONATHAN SAFRAN FOER
Published: 1 April, 2005
Publisher: Hamish Hamilton Limited
Genre: Contemporary Novel
Format: Paperback
Pages: 368
Cover Art
I am quite in love with the cover art for Jonathan Safran Foer's books. They always have this amazing typeface that makes the letters look as though they are being pushed and pulled and squidged and moulded... kinda like silly putty or balloons! Very dynamic and bold.
I am not a huge fan of book covers which are based on the film adaptation so the first one is my least favorite. Photographs of people on covers, particularly actors, is always quite a turn off for me, even though this one is quirky and different and does reflect the tattoos-on-hands aspect of the book, which is an element I absolutely loved when reading it! The middle cover is the one that I purchased and I do really love it, largely because of the lettering, but I do feel that the last one is the most special because the hand is eye catching and beautiful and references my favorite aspect of the book. I wish I had that one...ahh book envy...regrets. 
Plot Synopsis
The story is mainly narrated by an incredibly precocious and unusual nine-year-old child called Oskar Schell. He is not like any child I have ever met: he is intellectual with an unquenchable thirst for knowledge, very sensitive and loving, and has an opinion on just about everything. His father is killed in 9/11
. He is a 
pacifist
, a 
vegan
, musician (he plays the 
tambourine
), academically-inclined, and above all, earnest. Oskar wanders 
New York
, searching for the meaning of a strange key he finds inside a blue vase in his father's closet. Along the way he meets some truly unforgettable characters who are all affected by Oskar in some way. Two additional narrators,  in a separate but interlinking narrative thread, are Oskar's paternal grandparents who tell the story of their childhood, courtship, marriage, and separation before the birth of Oskar's father; much of their story is presented as a series of letters addressed to Oskar or his father.
My Rating

First Lines
'What about a teakettle? What if the spout opened and closed when steam came out, so it would become a mouth, and it could whistle pretty melodies, or do Shakespeare, or just crack up with me?'
Review
OK. This review is going to be gushy. You ready?
This book is completely beautiful. It made my heart ache and not just because of the story, which is almost tortuously painful, but because this is the book I wish I was able to write. It is so poetic and lyrical whilst never losing coherence or meaning; it never purposefully conceals it's meaning from the reader or attempts to confuse them. Jonathan Safran Foer really knows how to use language to convey a plethora of different meanings all at once and I found it glorious to behold.
This book contains quite a few unusual structural elements too. There are pages that just contain a single sentence and pages which are just a sequence of photographs. 
Although I have heard people say otherwise, and the format and the images it includes are, for me,  not gimmicky or superfluous to the plot; they are crucial and work incredibly well, particularly at the end. 
Oskar's adventures are only half the story. His grandparents claim the other half. And how beautiful their story is. That was the one that made me yearn and cry and want to get tattoo's on my hands and live in silence. I loved the letters Oskar's grandfather writes to his true love about future homes carved into the hills in caves and a home without walls. I want someone to love me so much that in any place, in any time, I am the only person they can imagine being happy with. 
This book is all about moments. Moments suspended in time. The sisters kissing. The paper flying out of the twin towers. The old man with the nails in his bed. Murdering an elephant. People reduced to melting piles on the ground. Oskar's business cards and his letter from Stephen Hawking. Jonathan Safran Foer manages to make all of these small moments and events so moving that they are unforgettable.
I have that feeling now, that perfect book afterglow; that one that makes you want to tell everyone you know how amazing a book was and how they need to read it. The one that makes you want to comment bad things about the people who gave it negative reviews. How can they not know how perfect it is? 
Everyone should read this book. It will make your life better. I promise.
Other Thoughts
This Book has Inspired me to Read: 'Everything is Illuminated' by Jonathan Safran Foer and 'Tree of Codes' by Jonathan Safran Foer. READ ALL THE BOOKS!
A Quote I Liked From the Book:
 

"If there is no love in the world, we will make a new world, and we will give it walls, and we will furnish it with soft, red interiors, from the inside out, and give it a knocker that resonates like a diamond falling to a jeweller's felt so that we should never hear it. Love me, because love doesn't exist, and I have tried everything that does."
Three Words to Describe this Book: Lyrical, Beautiful and Moving.