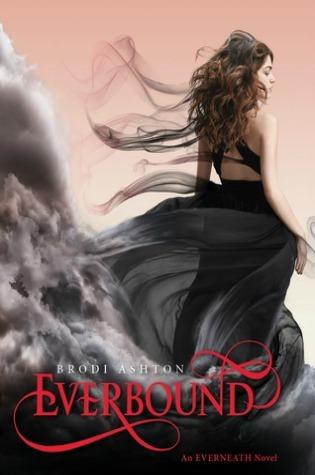 Title: Everbound
Author:Brodi Ashton
Edition: ARC
Series: Everneath #2
Released Date: January 22nd, 2013
Publisher: Balzer + Bray
Goodreads
/
Amazon 
Nikki Beckett could only watch as her boyfriend, Jack, sacrificed himself to save her, taking her place in the Tunnels of the Everneath for eternity — a debt that should've been hers. She's living a borrowed life, and she doesn't know what to do with the guilt. And every night Jack appears in her dreams, lost and confused and wasting away.
Desperate for answers, Nikki turns to Cole, the immortal bad boy who wants to make her his queen — and the one person least likely to help. But his heart has been touched by everything about Nikki, and he agrees to assist her in the only way he can: by taking her to the Everneath himself.
Nikki and Cole descend into the Everneath, only to discover that their journey will be more difficult than they'd anticipated — and more deadly. But Nikki vows to stop at nothing to save Jack — even if it means making an incredible sacrifice of her own.
In this enthralling sequel to Everneath, Brodi Ashton tests the bonds of destiny and explores the lengths we'll go to for the ones we love.

There comes a time where you just start to fall out of love with a series. Last year, when I read Everneath I REALLY liked it. There was so much to it that I grasped onto and I just wanted to read the sequel immediately. I was anxious to read Everbound, and Kelsey from the Book Scout sent me her copy of the ARC. I picked it up a few days ago and started right away.
It wasn't a boring read, but it wasn't intense either. It just settled in the middle. Sadly, you couldn't say it was a "happy medium" like I had hoped. It just didn't do anything. It seemed like it lacked something in its 
entirety
. 

I can't really explain what it was. Maybe it was the lack of romance, or the lack of character development. Literally, Nikki was so wishy-washy with everything she did. One moment she trusted Cole, one moment she didn't. She was so determined to find Jack, and then in some moments she felt she didn't want to. I mean, really? Are you that unstable that you can't figure out what you want to do when it comes down to saving someone you love?

There were a few things that I actually did like. I started to fall for Cole, more and more. The way he interacted with all the characters: Nikki, Max, and Ashe. He kind of grew on me. Lately, I seem to be falling for more of the bad-boy types when it comes to novels like these. There were so many moments where I wanted Cole and Nikki to get together once and for all. Sadly, that didn't happen. At the end, oh wow. That kind of pushed my buttons. It was kind of badly done though. One moment Cole was amazing and wonderful, the next he pulled a full 360. I can't say that it was frustrating. I mean, it was, but not because of what he did. It was the way it was written and worked its way into the plot. 

Next, the minor characters really were spectacular in this novel. I really started to like Max, more and more. His little interjections when Cole would start to tell stories, and the way he protected Nikki even though he wasn't getting anything out of it. He seemed like a good best friend to have. Ashe... that was an interesting guy. I don't really know what to think of him. I have to say that I liked him though. 

Besides the minor characters, the flashbacks were a nice touch to the novel. They played a major part in the plot, and I liked the effect they had on Nikki when she flashed back and thought about her happiest times with Jack.

I have to say, if you really loved Everneath then it would be a good idea to read this one. Just keep in mind that sometimes the book can get really annoying. I'd definitely recommend Everneath though, if you haven't read it yet! This one could have used a little work, if I say so myself.