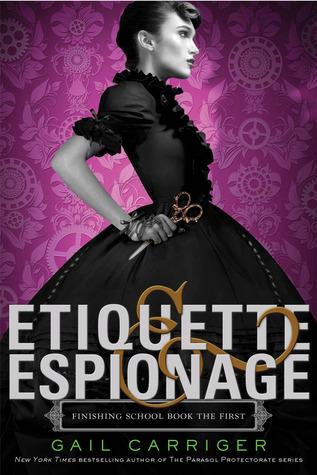 Title: Etiquette & Espionage
Author:Gail Carriger
Edition: hardcover
Series: Finishing School #1
Released Date: February 5th, 2013
Publisher: Little, Brown
Goodreads
/
Amazon 
It's one thing to learn to curtsy properly. It's quite another to learn to curtsy and throw a knife at the same time. Welcome to Finishing School.
Fourteen-year-old Sophronia is a great trial to her poor mother. Sophronia is more interested in dismantling clocks and climbing trees than proper manners—and the family can only hope that company never sees her atrocious curtsy. Mrs. Temminick is desperate for her daughter to become a proper lady. So she enrolls Sophronia in Mademoiselle Geraldine's Finishing Academy for Young Ladies of Quality.
But Sophronia soon realizes the school is not quite what her mother might have hoped. At Mademoiselle Geraldine's, young ladies learn to finish...everything. Certainly, they learn the fine arts of dance, dress, and etiquette, but they also learn to deal out death, diversion, and espionage—in the politest possible ways, of course. Sophronia and her friends are in for a rousing first year's education.
Set in the same world as the Parasol Protectorate, this YA series debut is filled with all the saucy adventure and droll humor Gail Carriger's legions of fans have come to adore.

Sophronia was spunky - there was no doubt about that! I'm not sure how much I liked it though. She was often very immature, and it seemed like at some points finishing school was having a beneficial impact on her, yet sometimes she seemed to go back to her hold ways. You'd expect her to learn how to be a little bit of a lady besides knowing how to do a proper curtsy! Anyways, I feel like she didn't grow as much as you'd expect her to. I mean, I knew she was still going to stay spunky, but I figured she'd be a little more proper then. Who knows, maybe it's just me.
Regardless, this book was fun! I liked the setting and the whole idea of the finishing school. It almost reminded me of Grave Mercy with the assassins and whatnot. The thing that dragged on the most for me was the plot. Holy cow. I was on page 150 and I felt like I was only on page 30 because nothing had really happened. 
So the basis of the book is Sophronia and her friends at finishing school trying to figure out where one of the other girls hid a certain prototype. First of all, Sophronia and her friends don't know what the prototype is. Secondly, they don't even know the importance of it - just that it's kind of important. Then, they keep nagging on this girl Monique, who apparently hid the prototype. They kept questioning her and Monica didn't say anything regarding it. You'd think after a million times of a person denying something, the questioner would drop the matter? Apparently not. Sophronia and her friends were consistently suspicious of Monique and wouldn't fricken drop the matter.
Luckily, there were a lot of funny parts, and I think the time period made it even more hilarious! Like when overdresses would rip and undergarments would be shown, or other things Sophronia would say that would only be appropriate in the era. Additionally, I liked the hint of paranormal elements with the werewolves and vampires that work for the school. 
It seemed like there were a mixture of things I disliked and liked about this book. I'd definitely gear it towards a younger crowd, since there wasn't any romance, but I can see some brewing for some of the characters. Based on the characters age of 14, it seems like girls around this age would appreciate the book the most. Overall, Etiquette & Espionage was a fun read, but it could be changed in a couple ways to make it more appealing.