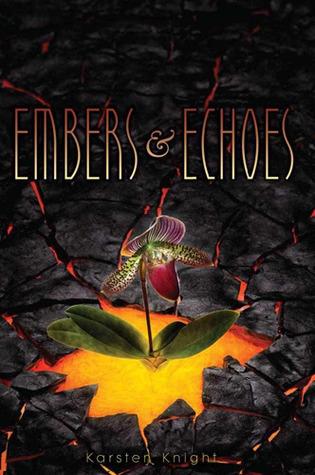 Title: Embers & Echoes
Author:Karsten Knight
Edition: hardcover
Series: Wildefire #2
Released Date: August 28th, 2012
Publisher: Simon & Schuster
Goodreads
/
Amazon 
Every flame casts a shadow.
Ashline Wilde is about to discover that when you're the reincarnation of a Polynesian volcano goddess, "new beginnings" are just a myth. Leaving the fiery ruins of her sophomore year behind her, Ash travels to the sizzling beaches of Miami, hot on the trail of the little sister she's only seen in visions. But her happy family reunion isn't all palm trees and paradise. A cult of evil gods-on-earth, known as the Four Seasons, has kidnapped her sister to use in its terrifying new religion. Soon, the streets of Miami erupt in chaos and violence...and Ash gets caught right in the tropical crossfire.
Ash isn't without help, however. Unexpected romance arrives in the form of Wes, an Aztec god of night with his own vendetta against the Four Seasons. As memories of Ash's previous life begin to flicker into her dreams, the boundaries between ally and enemy, life and death, and love and hate all bleed together. And when a mysterious trickster from her past reappears to derail her new quest, Ash must choose between the echoes of a once-forgotten yesterday and the embers of an uncertain future.
Because when old flames return from the dead, even a volcano goddess can get burned.
I really loved Wildefire, when I read it about a year ago. It was simply awesome in my eyes because I loved Ashline. Her snarky attitude and quick wit made me respect her a lot and she made it entertaining to read. I also really liked all of the mythology. It's like my guilty pleasure! It was nice to learn about all different cultures rather than just Greek mythology too! In other words, I simply adored Wildefire.

Not many people had similar feelings about the first book. Some people hated all the violence and vulgar language. So not many people went and read Embers & Echoes after reading Wildefire. I was so happy to read Embers & Echoes, I was practically bouncing off my chair! 

I have to say, I was extremely let down. I expected some awesome action scenes and wonderful romantic scenes, but honestly - everything was cliched. There's just no other word to describe this book than cliched.

All the fight scenes - especially with the Four Seasons - occurred the same way. Ashline would be overpowered and about to die, and then BAM. She figured out a solution and magically killed each member of the Four Seasons easily. It's like NO! Ashline does not just have an awesome mind and be able to see something that will save her life. It would been more believable if not every member of the Four Seasons was killed off, or even killed off my Ashline. Maybe a minor character could have helped, or a natural disaster - ANYTHING!

The romance was just ehh. The book took a span of about a week. That means she meets Wes, and they seem to have an AMAZING connection. WHAT!? Okay, I get you're these reincarnated gods, but you really think you would be able to tell you have a history in a few hours? If that was possible, then why couldn't Ashline tell that with Colt - her so-called SOUL MATE? This frustrated me a bit, but Wes was pretty cute so I put up with it.

It may seem like I didn't like this book, but there were things I did like. Ashline is still somewhat of an idol for me, because she's so strong. Things go down in the dump SO many times for her, but she just keeps pushing and making things work for her. I really respect that about her!

Also, the plot was pretty awesome. Everything with Ashline dreaming of her past lives, to trying to save Rose and being betrayed. There were a couple awesome twists and turns that kept me on the edge of my seat!

Lastly, I think this book will appeal to readers of Wildefire who simply didn't like the first book because of the vulgar language. I think the publishers took that into consideration, because there was pretty much no vulgar language in this book! 

So I really wanted to love this book as I loved Wildefire, but it really didn't do it for me this time around. I was planning on rating this book a two, just because I hate things that aren't realistic, but the plot and Ashline still rocked.