The rumor of production fiasco might clearly shape the final outcome of Dolittle—another failing rendition of Hugh Lofting's beloved vet who helps and talks to animals. In the beginning, we learned the dropping of "The Voyage" from the title; then, the rumored extensive reshoots, which might alter a huge portion of the plot and, eventually, explain the altered title. In the end, we somehow learn that the movie doesn't count on the plot anymore. The only important thing that can help the movie salvaging the voyage-wreck are the talking animals.
Even Robert Downey Jr., who takes up a mantle of another typecast character, cannot lift Dolittle's plot up from sinking. His Dolittle is a cocky, occasionally reluctant genius just like his other blockbuster persona, i.e., Tony Stark or Sherlock Holmes. The genius deciphers the code to finally be able to talk to animals of any kind (including an octopus). Ever since his adventurous wife deceased, Dolittle alienates himself in his manor which has grown like a jungle. Just like any RDJ's characters would be, Dolittle indulges in a life that only he can understand.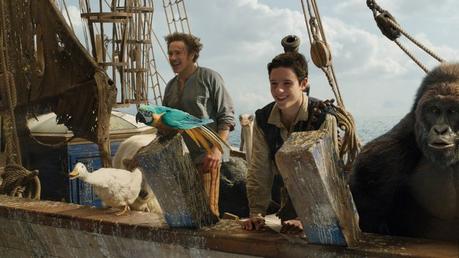 Robert Downey Jr. and Harry Collett in
Dolittle
(2020)
His adventure begins when the Queen of England who fell mysteriously sick summons him to the palace. With the help of his animal horde (including a parrot, a gorilla, a polar bear, a duck, and some other animals) along with the animal-loving boy, Stubbins (Harry Collett) who accidentally stumbles into the vet, Dolittle embarks on a voyage (which ironically has been dropped from the title) to find a mythical plant believed to be the only cure for the Queen's sickness. Standing against him are Dr. Blair Müdfly (Michael Sheen) and Lord Thomas Badgley (Jim Broadbent). From there, the vet sails across the sea—swimming with dolphins, fighting Iberian royal bandits led by Antonio Banderas, and calming down depressed tiger.
Ask not for why and how some vile aristocrats attempt to assassinate the Queen with a slow-death; or how the mythical plant can cure the Queen's illness as Dolittle believes it would be (he's a doctor; he knows better than to blind-test a newly-found drug); or how a man who deliberately alienates himself from the society suddenly gave up on his credo just because some animals force him to do so. The reshoots cut down the story's coherence and, apparently, alter the dialogues even when the scene has been shot. You can notice that some dialogues are dubbed and felt out of place. That issue alone basically defines the whole fiasco the movie attempts to conceal.
RDJ has actually performed an interesting performance even when his character's arc is overly familiar (an RDJ character takes an apprentice; is this a Spider-Man movie?). The interactions with the star-studded, talking animals are always enticing, even when the animals, aside from Emma Thompson's parrot, are plainly written. The gorilla doesn't have to be a gorilla; the duck and the dog can be switched and the swap won't mean anything to the plot. It has always been easy to root for RDJ's character, but, with his performance criminally botched up, nothing can be done.
With the exception of RDJ (whose performance is ironically botched to make him does little than he has actually done), everything in Dolittle literally does little. The plot does little; the characters do little; the technical departments do little to make this movie a do-big blockbuster for all ages.

5.9
Dolittle (2020)
1h 41min | Adventure, Comedy, Family | 16 January 2020 (Singapore)
Director:
Stephen Gaghan
Writers: Stephen Gaghan, Dan Gregor
Stars: Robert Downey Jr., Antonio Banderas, Michael Sheen
Summary: A physician discovers that he can talk to animals.
Countries: USA
Languages: English
Source: imdb.com
Disclaimer: This plugin has been coded to automatically quote data from imdb.com. Not available for any other purpose. All showing data have a link to imdb.com. The user is responsible for any other use or change codes.