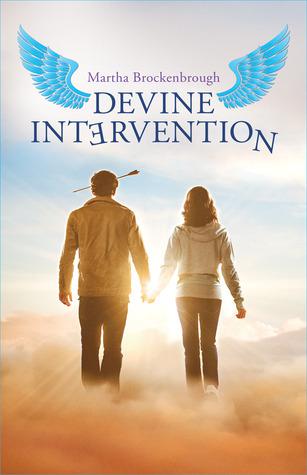 Title: Devine InterventionAuthor: Martha BrockenbroughEdition: ARC paperbackSeries: noneReleased Date: June 1st, 2012Publisher: Arthur A. Levine Books
Goodreads

/

Amazon There is a great legend of the guardian angel who traveled across time and space for the human girl he loved, slaying those who would threaten her with a gleaming sword made of heavenly light.
This is not that story.
Jerome Hancock is Heidi Devine's guardian angel. Sort of. He's more of an angel trainee, in heaven's soul-rehabilitation program for wayward teens. And he's just about to get kicked out for having too many absences and for violating too many of the Ten Commandments for the Dead.
Heidi, meanwhile, is a high school junior who dreams of being an artist, but has been drafted onto her basketball team because she's taller than many a grown man. For as long as she can remember, she's heard a voice in her head - one that sings Lynyrd Skynyrd, offers up bad advice, and yet is company during those hours she feels most alone.
When the unthinkable happens, these two lost souls must figure out where they went wrong and whether they can make things right before Heidi's time is up and her soul is lost forever.
Martha Brockenbrough's debut novel is hilarious, heartbreaking, and hopeful, with a sense of humor that's wicked as hell, and writing that's just heavenly.
To be honest, this is like a bad addicting drama show. There's some stuff in here that's funny, some stuff that's sad, but overall it's just stupid. I'm not saying that in a bad way, really. I don't mean 'stupid' in the why-the-heck-did-i-read-this way, but it's more of a haha-wow-thats-a-cliche way. So it's not completely bad! Once you get so far in the book, you notice that it's just silly, but you're so addicted to it that you have to keep going and see what happens!
Heidi Devine is really big on art, or so they say. I wish they had more about her art obsession in here, because it would have made it easier to relate to her. Otherwise, Heidi was a pretty cool character. She didn't exactly plan ahead, but when things got tough she seemed to always have a decent solution.
Jerome, on the other hand... oh gosh. He's fricken hilarious, because he doesn't know ANYTHING! He's a trainee guardian angel, and in their training they receive a guide book that the trainee guardian angels are supposed to consult when they need help. Do you think he did that? NOPE! What really made me chuckle about him was how anytime someone used a relatively big word, he wouldn't know what it meant or he'd get it mixed up with another word similar to it! I just really loved Jerome, but it's kind of upsetting that I can't recall what he even looks like...
The plot was pretty cool though , as Jerome makes a mistake and Heidi ends up dying and she has to find a way to get her soul back with her body. Also, she's got to get her curious little dog's soul back to his body after a semi-funny accident. Some part of this plot was really good, and other times it was kind of boring but for some reason I couldn't stop reading! The ending was really different though, and I swear that if there is no sequel I will be VERY angry. I mean, it had some closure, but there were still lots of questions about what was going to happen with Jerome! Sadly, I don't think there is going to be a sequel! :(
Pretty much this novel was funny and the rest of the book was just plain 'ehh.' There were some ups and downs, but nothing was really constant in the feel of this book - it would go funny for a while, and then have a burst of seriousness and then bounce back to being funny. I don't know, but I still thought it was a cute book!