It's not often that I can find a conditioner for less that $10 that can multitask well, so I was pleasantly surprised when I tried Desert Organics Red Grape Conditioner. First, the important stuff: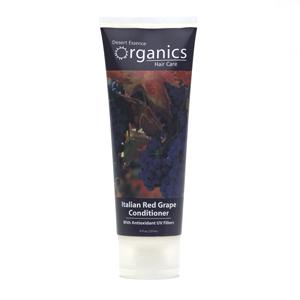 Desert Organics Red Grape Conditioner $8.99 (on sale NOW for $5.40!)
Ingredients:
Aqueous Infusion of Certified Organic Extracts:, Vitis Vinifera (Grape) (Grape), Olea Europaea (Olive) Fruit Oil (Olive), Vitis Vinifera (Grape) Seed Oil (Grape), Helianthus Annuus Seed Oil (Sunflower), Butyrospermum Parkii (Shea Butter) Oil (Shea Butter), Emulsifying Wax (vegetable derived), Resveratrol, Red Wine Extract, Panthenol, Tocopherol (Natural Vitamin E), Prunus Amygdalus Protein (Almond), Polyquaternium 7 (coconut derived), Proprietary Blend of Natural Essential Oils, Phenoxyethanol, Potassium Glutamate, Potassium Sorbate
This product has no parabens, sulfates, cones, or other icky stuff, and it worked like a dream! I used it in the shower to detangle after I washed my hair. I detangled with my [shower comb] and didn't even need to use any Vatika Oil like I usually do to help get the knots out. After I [towel dried] my hair, I realized that I was low on Hairveda's Almond Glaze and ended up using more conditioner as a leave in and styling aid for my two-strand twists. As usual, I left them in a couple of days, but when I untwisted, my hair looked and felt great! I even added a little to my homemade Daily Leave-In Conditioner. And it helped keep my hair moisturized when it got parched a few days later and I was styling it into a puff.
The best part? It smells like grape soda..really!
It's got multiple uses, my hair smelled and looked great, and it's less than $10!
RATING: 5 *Savvy! – Great product, good ingredients, great price, multiple uses, will buy again!
As usual you can find this product at the Savvy Shop Check it out, it's on sale right now!
Savvy Ratings:  5=Savvy  4=Smart  3=Suitable  2=Satisfactory   1=Stupid