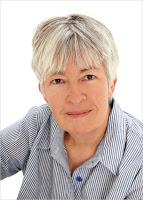 I was fortunate to receive an advance reader copy of Juliet Marillier's Den of Wolves, the third novel in her Blackthorn and Grim series. I decided I would not do justice to the book or myself without reading the first and second books, Dreamer's Pool and Tower of Thorns respectively, so I quickly borrowed these titles from the library. I was glad I went back to the beginning with these characters.
Blackthorn and Grim were unknown to each other until both were incarcerated in the lock-up of a particularly corrupt chieftain named Mathuin. Blackthorn's life, and as a result Grim's, was saved by a mysterious fellow named Conmael, a member of the Fey, who added several conditions to the favour of saving Blackthorn's life. Blackthorn was to go where he told her to go, stay there, help all who asked and not seek vengeance against Mathuin for a period of seven years. Having only one other choice, a quick furtive execution before she was set to give evidence against Mathuin to a high council, she accepted the terms. Blackthorn escaped into the woods, with Grim trailing behind her.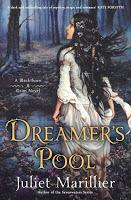 Grim is the first person Blackthorn helps under her agreement with Conmael. Grim doesn't ask outright for Blackthorn's help, but the request is implied. From the beginning Blackthorn is a prickly, touchy, rather cross woman who desires nothing more than to keep her own company far from any other living person. It is clear that the pain she carries is great. Grim, though similarly troubled is more affable, a helper, a doer, who is quickly accepted into the community at Winterfalls, and valued for his skills as a builder.
I came to think of Blackthorn and Grim as medieval sleuths. Each book, though bathed in myth and magic, is also a mystery to be solved. Someone to be saved. Many underestimate Grim's intelligence, his ability to pull apart the facts of a puzzling situation and rearrange them into a solution. Between them, Blackthorn and Grim right many wrongs, but the wrongs they have personally endured still weigh heavy on them.
Blackthorn's past has resulted in her only expecting the worst from men, particularly men of power and influence. In the first book, she finds that Prince Orin is a different sort of man entirely. Though very near tempted to break the rules and leave Winterfalls, she stays and the mystery of Dreamer's Pool is discovered.
These characters are an odd couple. There is much gruffness between them and an arms distance that comes from each holding tight to their secrets, the ones that broke them. In this book the writer shares with us the tragic backstory of Blackthorn, but Grim's past remains a mystery. The first book is a perfect introduction to the characters and this time and place.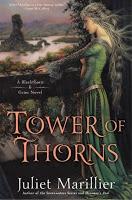 The second book, Tower of Thorns, revolves around a 200 year old curse and a request from Lady Gelies, the woman at the heart of it, that Blackthorn find a way to break it. Lady Gelies knows exactly how to break the curse but needs Blackthorn to do it. Nearby is a monastery that Grim seems determined to avoid.When Blackthorn asks him to go there we find out more about his past. His backstory is tragic too, but eventually he finds a way to work through some of his past trauma, while helping the monks to repair their scriptorium.
The relationship between Blackthorn and Grim grows deeper throughout this book, but Blackthorn is still focused on revenge and almost falls prey to Mathuin when her need for vengeance is used to tempt her to leave with an old friend promising her that very opportunity. She avoids one disaster only to fall prey to another and is almost lost as a result of her breaking the curse. Luckily, Grim saves her. This book was a combination of secrets and lies versus love and commitment.
So finally we come to book three,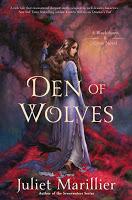 Den of Wolves
. Again, Blackthorn and Grim are faced with a mystery. This time, however, they have little opportunity to put their heads together and solve it in the way they have solved such mysteries before. Each learns parts of the story and must investigate on their own. Grim goes to work for the man at the centre of this story. A mean, secretive man, who insists Grim not speak with anyone about what he is doing at Wolf Glen. Meanwhile, this man's daughter, Cara, is sent to Winterfalls against her will, to live in the castle of Prince Orin. This is where she first meets and befriends Blackthorn, and relates what she knows of the story of the heartwood house. As usual, things are not as they seem and a great wrong must be undone.
Marillier does a fine job of gently easing these characters together. They start out so broken and pitiful in the first book yet, thrown together by circumstance, they come to rely on, and care for each other. Her writing is emotional, but not sentimental. The themes mirror many of the issues we face today. Abuse of power, and corruption of that power. Violence against woman and exploitation of those who have no voice, no power of their own, no champion to stand for them. Marillier realistically depicts the symptoms of PTSD in the flashbacks and physical and emotional responses of her characters, Grim in particular. There is much heart in her writing, and the healing journey Blackthorn and Grim go on is a pleasure to read.
I really enjoyed the series. Thanks Juliet!