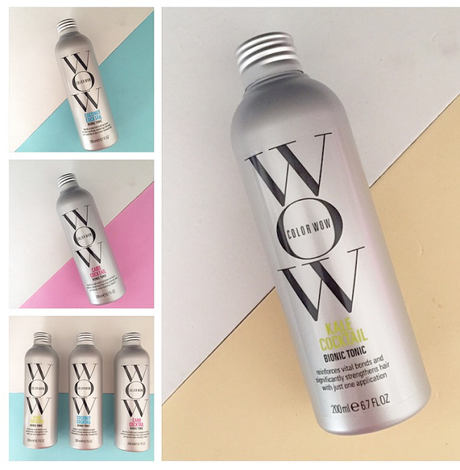 I was so happy to have been sent these new Color Wow products thanks to Imagination PR which I've been playing around with and finally got round to share my thoughts with you guys. These new hair cocktails are such a fun way to apply a "bond reinforcing" product to your hair.
You may have already watched me talk about these fantastic new color wow products on my YouTube Channel
The whole range of cocktails are leave-in bond building supplements formulated for color treated hair. Depending on which one you use they either strengthen, thicken, renew elasticity, retain suppleness, protect and prevent further damage. You can even mix them together like you would a cocktail for what your hair needs. I've been using the Kale Cocktail for my processed fine/prone to breakage hair for a few weeks and I absolutely LOVE it!
The Proudct The Kale cocktail is a bionic tonic which contains sulfur rich sea kale known to help reinforce hair vital bonds. It also contains protein building amino acid and vitamin B which works in one single application. The Kale cocktail can be mixed with the coconut or the carb cocktail for when your hair may need an extra hydrating or body building boost! You must shake before use and for best results the product is accelerated and enhanced when heat is applied.
The Promise The kale Cocktail promises to reinforce hair bonds and strengthen each strands. Detangle hair, help reduce further breakage and help guard against UV ray's.
My Verdict I've been applying a small amount (of shaken not stirred product) to towel dried hair mid lengths to ends combed through then styled as normal with my hair dryer. On work day's I do apply hair irons too to smooth out my crash helmet kinks. The consistency is light and milky and easy to apply, it's not sticky and smells really fresh and pleasant to use. When my hair is dry/styled it doesn't feel like I have any product in it (which is a good thing) however there is a noticeable difference in how my hair hairs/looks/feels. It instantly looks healthier, feels stronger and is soft and smooth to touch without being fluffy.
Summary I love this product so much and have already recommended it to a few friends. My husband who's a hair colourist – you can check him out here has also started using it on some of his clients post colouring services. I will definitely re-purchase this product however in the meantime I will experiment with the coconut and carb cocktails too!
You can pick them up at a John Frieda hair salon or online here £22 Have you tried these or any other products from the Color Wow range?
Secondblonde x
Filed under: bbloggers Tagged: amino acid, bbloggers, beauty, beauty blogger, beauty review, beauty tips, bionic tonic, carb, cocktail, coconut, color wow, color wow hair cocktails, colour treated hair, hair, hair bonds, hair products, hair strengthener, hair stying, hair tips, hair treatment, john frieda salons, kale, leave-in conditioner, luxury, new hair products, protein treatment, sea kale, secondblonde, vitamin b